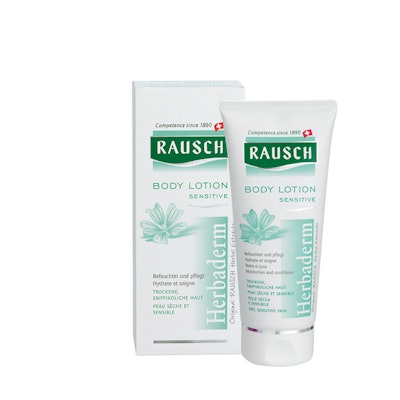 Renowned for making hair and body care products, Swiss company Rausch AG Kreuzlingen has switched from a bottle to a tube for its "Body Lotion Sensitive" brand. The tube is supplied by Neopac, a company with which Rausch has partnered for years.
For Rausch, high-quality materials play a cardinal role in packaging. The printability of the packaging is another important factor. Rausch tests packaging materials for specific physical parameters in its in-house laboratory.
About four years ago, Rausch incorporated its "Rausch Herbaderm body care range" into its parent brand. During the transition period, the "Body Lotion Sensitive" packaging was changed from a bottle to a tube. As a result, this popular product has gained a more consumer friendly feel.
That's achieved through Neopac's Polyfoil® tube that protects against diffusion and light. The soft touch finish gives the tube a special "soft as velvet" appearance and texture that lends the impression of velvety soft skin.
Hans Mustermann, press officer for Rausch, explains: "We want to support the Swiss economy and are loyal advocates of 'made in Switzerland' and the outstanding quality of Swiss products."
Rausch has used the power of plants since 1890 in order to manufacture high-quality, innovative, back-to-nature products for its hair and body care product range. The company combines the traditional knowledge of medicinal herbs with scientific competence, state-of-the-art extraction, and manufacturing techniques, selling its products in 26 countries.
Companies in this article