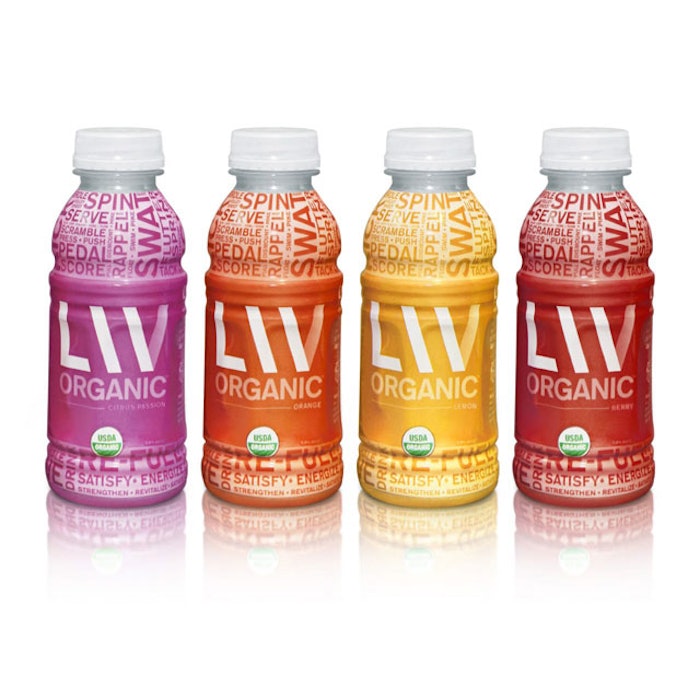 The organic athletic drink, initially geared at mothers and the organic market, needed a more energetic design to capture the attention of health conscious athletes, active adults and kids. To recharge its own brand and compete on store shelves, founder Nancy Street turned to TANKindustries.
"The re-launch wasn't just about design. It was about the whole market and what was going on," says Street. "TANKindustries helped us first understand our audience and then provided the branding to match--it was a thoughtful and strategic approach."
After touring multiple supermarket shelves and speaking with athletes and kids, it became clear the old design didn't quite meet the aesthetic demands for this active audience. The original design was simple and clean: LIV Organic came in a clear bottle that had a center band label with the logo as the central focal point. Each flavor (lemon, berry, orange and citrus passion) was distinguished by complementary beverage and label colors. Though the drink was visible through the bottle and provided an extra hue to the package, it also presented a problem. Product testing revealed that sunlight caused the organic ingredient colors to fade over time.
To protect the product from color degradation and appeal to its new audience, the first decision was to use a shrink wrap label on the entire PET bottle, which comes from Amcor. Supplied by SleeveCo, the PETG label is gravure printed in five colors. It not only protects the product from sunlight but also provides greater shelf impact with more communication space. To engage consumers, the label is chock-full of sports related verbs in various font sizes and layout directions. Other details include a fuel pump infographic that reads "pure fuel for your body," and "6 ingredients, 0 garbage." Overall, important product information is presented in a fun, straightforward manner. Similar to the previous design, each flavor is characterized by its own color pallet and the USDA Organic logo remains on the front of the bottle to remind consumers of LIV Organics commitment to product integrity. In fact, it's the only ready-to-drink USDA certified drink for athletes. Other packaging considerations included a smaller 12-ounce bottle to provide better consumer portion control.
Companies in this article