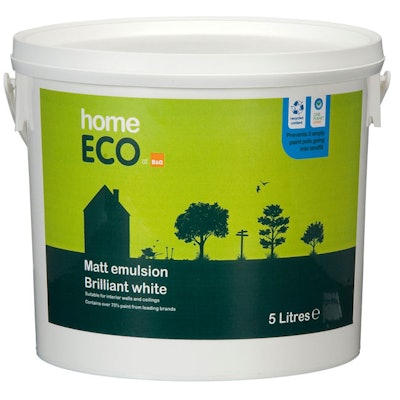 As the U.K.'s biggest seller of paints for the retail market, B&Q takes a significant interest in the issue of waste from paint. In a statement of commitment to long-term sustainability, the company is working with supplier Newlife Paints. This eco-friendly company collects paint destined for landfill, separates it into color batches, and reconditions it into usable, recycled paints. Newlife is supplying B&Q with a white emulsion paint to be trialed under the retailer's Home Eco brand, a label that runs across several product types to give consumers a "greener" alternative. 

B&Q wanted packaging that would reflect the sustainable nature of the paint itself by incorporating recycled content, so it turned to RPC Containers Oakham. "We wanted a U.K. supplier in order to avoid superfluous transportation and therefore to minimize the carbon footprint of the Home Eco paints, and RPC has the best reputation in the U.K. for incorporating recycled plastic into its containers," explains Sarah Greenaway of B&Q.


The technically challenging brief involved close cooperation with U.K. suppliers of recycled plastics to ensure a high-grade polymer capable of withstanding the weight of paint. Tests confirmed that the optimum proportion of post-industrial polymer was 25% in order to maintain the highest standard of consumer functionality and convenience. The injection-molded polypropylene pail is available in a 5-L size, and labeled with B&Q's distinctive green Home Eco livery.
The new paints are being trialed in four branches of B&Q, in special in-store "eco shops," with further rollout anticipated as the project develops.
Companies in this article