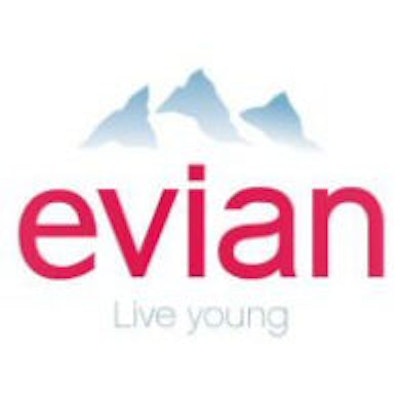 Danone Waters of America, Inc. has redesigned its classic 1.5-L evian bottle as part of the company's ongoing effort to reduce its ecological impact. The new bottle, made of up to 50% recycled PET, remains 100% recyclable while using 11% less plastic, resulting in a weight of 3.4 g less than the previous design (down to 28.6 g per bottle). This reduces the bottle's overall carbon footprint by 32%, says Danone Waters. According to the company, the newly designed bottle represents an important step in evian's environmental policy, which targets a CO2 emissions reduction of 40% between 2008 and the end of 2011.
Evian says it encourages its consumers to "Live young" in all aspects of their lives. The new bottle suits the needs of a modern, active lifestyle with a new grip that facilitates drinking on the go. And, 15 years after Danone Waters introduced its original compactable bottle, the new design is even easier to crush, taking up less space in recycling bins, which the company says makes it even easier for customers to make the right choice for the environment.
"Evian is committed not only to the quality and purity of our water, but also to the reduction of our impact on the environment," says Jerome Goure, vice president of marketing for Danone Waters. "With the launch of our latest bottle, which is lighter and more compactable, we hope that our consumers will feel good about purchasing evian, and feel encouraged to recycle."