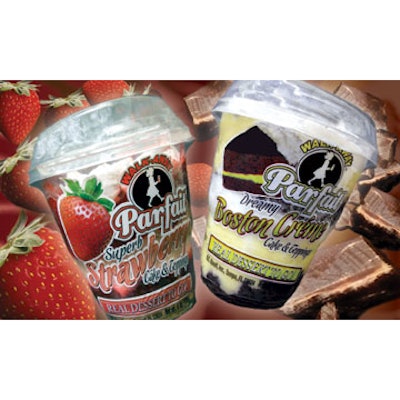 The printing is done by R.B. Dwyer Group on a new IVCO (Infinitely Variable Cylinder Web Offset) press made by RDP Marathon. The IVCO press enables B.C. Bundt to present a product with gravure quality and zero cylinder costs.
The sleeve comes over the cap of the single-serve clear domed cup in order to ensure tamper-evidence and also hold the mini fork to the cup. The sleeve is printed with an indication bar that says "Tear Here" so that the sleeve is easily removed from the container.
This combination label enables B.C. Bundt to offer its customers a secure product and allows the customer to eat the walk-away parfait with the attached utensil. The graphics reveal the mouth-watering flavors and the clear area of the label allows the customer to see what's inside the cup. The parfaits are available in three flavors, strawberry, banana cream and chocolate and several more are planned in the near future.
Companies in this article