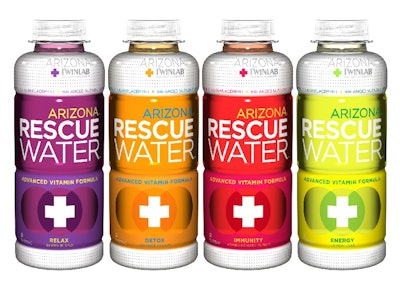 In selecting the right package, AriZona issued several requirements to its supply chain:
A panel-less, hot-fill PET bottle that achieves the look and feel of glass.

Robustness in the consumer's hand.

A package that mimics the appearance of a vitamin packer bottle.

Graphics that communicate the healthful product benefits.
AriZona accomplished these objectives by opting for a high-tech, high-touch, 20.5-oz bottle with a full-body shrink-sleeve label. The bottle was designed and developed by
Constar
using the supplier's X4™ technology, a panel-free design for hot-fill beverages. The bottle imparts the robust, in-hand feel of glass while also optimizing performance during hot filling and labeling.
To provide hoop strength, maintain shape, and align well with the label graphics, three concentric ribs are positioned at the top, middle, and bottom of the bottle.
"AriZona Beverage doesn't want the consumer to feel that the package is cheap," says Donald Deubel, Constar Senior Vice President of Corporate Technologies.
The high-tech geometry of the bottle enables the vacuum that is generated during the hot-fill process to be absorbed in the base of the bottle. That leaves the sides cylindrical, rigid, and smooth, giving the PET bottle an in-hand feel similar to glass. It also avoids the "crinkly" feel of labels that consumers often associate with plastic beverage bottles.
The monolayer bottles also include Constar's DiamondClear® technology, an aggressive oxygen scavenger blended evenly throughout the PET. The benefits are two-fold: protection of product flavor and freshness, and a bottle with glass-like clarity.
AriZona formulates RESCUE Water with the help of
Twinlab Corp.
The line includes four SKUs featuring AriZona's classic green tea extract for an antioxidant boost. The varieties are Berry Blend, a blend of L-Theanine, green tea extract, and lemon balm extract; Lemon Lime, a blend of guarana extract, green tea extract, and natural caffeine; Orange Citrus with Alpha Lipoic acid, green tea extract, milk thistle extract, and L-Glutathione; and Pomegranate Punch, which combats free radicals with a blend of Arabinogalactin, green tea extract, and elderberry extract.
AriZona uses brightly color-coded labels to differentiate between the flavor varieties.
Companies in this article