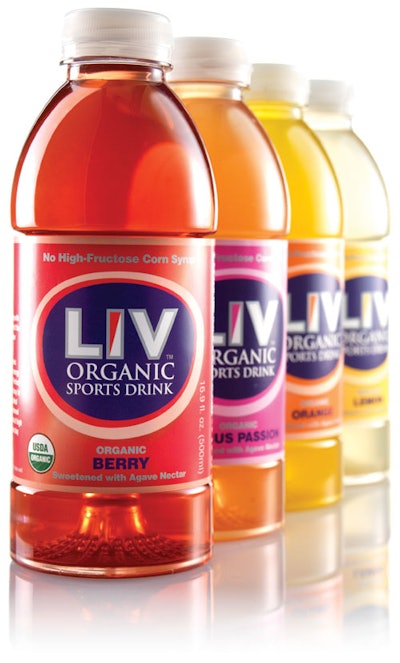 Princeton, NJ-based LIV has relaunched its LIV Organic agave nectar-sweetened beverage in the first PET bottle using new Groovy finish technology. The technology turns a typical 38-mm threaded bottle into a grooved surface, using 31% less resin and allowing for a smaller cap size having a resin reduction of 20% to 25%.
LIV President Nancy Dince says the company embraced the opportunity to be the first to use the new Groovy bottle, from
Amcor
, because it offers a more sustainable option for hot-fill beverages in PET bottles.
"The whole culture of LIV Organic is very much based around a concern for the environment and concern for health-related issues on a broad spectrum," Dince says. "So when our co-packer (
Castle Co-Packers LLC
) mentioned they were in conversations about a bottle with less plastic, we were thrilled."
The first user of Groovy, LIV is perfectly poised to leverage marketing and cost benefits of the new technology. Dince, a sports enthusiast and mom, launched the homegrown company in 2006.
"A few years ago I noticed that there was a gap in the marketplace that was important to me personally as an athlete, and as a mother of an athlete," she recalls. "The gap that I noticed is that there was no really, truly healthy sports drink."
On one end of the spectrum, she says, were drinks that though healthy, lacked the right formulation of carbohydrates and minerals for recovery and hydration. On the other end were drinks optimized in terms of carbs and minerals, but they also included artificial sweeteners, dyes, and flavors. Dince's response was to develop a beverage under the LIV Natural name in four flavors and derived from organic, unprocessed ingredients such as fruit juices and sweetened with agave nectar.
A year and a half after its launch, the beverage received USDA organic certification and was renamed LIV Organic. In early 2009, as LIV was preparing to change the brand's label graphics, Dince was approached by LIV's contract packager and part-investor, Castle, with the opportunity to switch to the new, lighter-weight Groovy bottle.
"Our product is hot-filled," Dince explains, "so our packaging options were very limited. You can't really put a sports drink in a glass bottle, because kids need to be able to throw the drink into a soccer bag or into a bike basket, and there really wasn't anything in the PET environment that offered any sustainability benefits until the Groovy bottle came along. So for us, the appeal was that we want to put our money where our month is; we want to say to our customers that we are doing everything we can."
An accompanying photo shows a standard 38-mm finish bottle on the left and a Groovy finish bottle on the right. The inside diameter of the bottle remains the same, while the outside diameter is reduced, as grooves replace bottle threads. Using the Groovy finish, the total weight of LIV's 16-9-oz bottle has been reduced 14.6%, from 36.8g to 31.4g.
Companies in this article