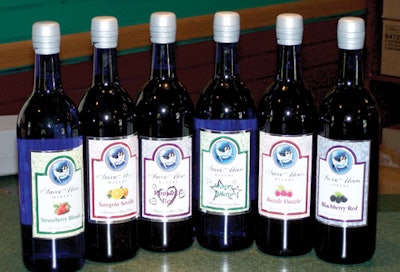 Approximately 80% of Silver Moon's sales are generated by the sweet wines. So the winery decided to launch six-packs of sweet wines into retail stores.
Silver Moon founding-family member Ken Eschbacher says, "We wanted to design unique packaging for these wines, using cobalt blue bottles with easy-open, peel-tab
Zork
closures. We like the consumer convenience of the Zork closures because they don't require a corkscrew for opening.
They also look distinctive on the shelf."
The Zork closures consist of three components: an outer, tamper-evident cap made with recyclable food-grade polymer; an inner foil, oxygen barrier; and a plunger, made with recyclable, food-grade polymer that "pops" when extracted from the bottle, and then is easily re-inserted to reclose the bottle. Zork USA is a division of
Portola Packaging, Inc.
. The closures are manufactured in Zork USA's Tolleson, AZ plant, enabling timely delivery. And conventional wine bottling/corking lines can be quickly adapted to accommodate the Zork closures.
The blue glass bottles are supplied by
Kaufman Container
. The labels are made of silver metallic paper stock and printed in four-color process plus white on top of the metallic paper. The labels are designed by
Gary Cole Design
and are supplied by
Innovative Labeling Solutions
.
Eschbacher notes, "The packaging is quite distinctive. Customers immediately recognize the cobalt blue bottle and the Zork closure, and sales are good. So retailers appear to be happy."
Companies in this article