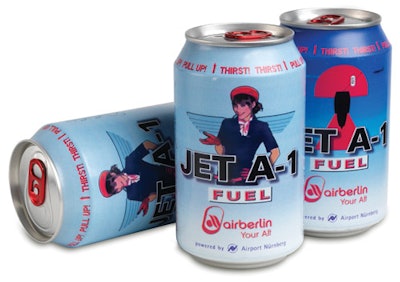 Spreading wings, the technology—developed as a digital alternative for the packaging and industrial printing sector—was used to decorate 33-cL beer cans for a promotion for Air Berlin, Germany's second largest airline.

In late 2008, Ball began a partnership with Tonejet to develop the supplier's newly launched digital print-head technology for beverage can printing. Ball incorporated a prototype of the digital printing press into its standard production line at the Hassloch plant in spring 2009. The digital prototype currently has an output of 120 cans/min, expected to increase to 200/min in the future.

Says Simon Edwards, vice president of sales and marketing for Tonejet, "The requirements for printing onto preformed containers are particularly demanding. For example, there are specific requirements for the containers entering the digital press to be delivered directly from the normal base production lines, followed by coating within the digital press itself. These presented a number of challenges, which we were able to resolve."

The Air Berlin can, decorated in four color-process graphics, was an ideal application for the technology, which favors short to medium print runs and provides photographic-quality images at a resolution of 600 dpi.

"The primary advantages [of this digital print technology for beverage can printing] are very low setup times, the ability to change images from one can to the next, hence job changeover is instant, and high-resolution images," says Edwards. "This results in the ability to accommodate short and medium print runs, which are typically cost-prohibitive on a dry-offset can-printing press." The process also allows test products and proofs to be run on-press, he adds.

Ball has currently equipped just one line with the Tonejet printer, but Edwards says that this capability is expected to grow in the next 12 to 24 months.
Companies in this article