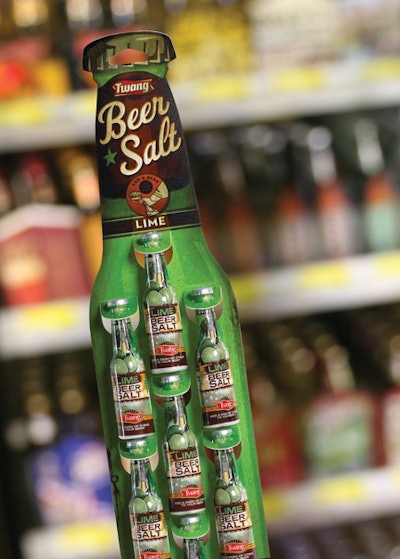 Whether it's a liquor store, convenience-mart gas station, or liquor department in the grocery store, the beer cooler is where you'll find a very high level of promotional noise trying to grab consumer's attention. With the explosion of craft brewers, the beer shelf is crammed with carton graphics, brewery history, and details about the style of the beer, all of which adds to the cacophony.
So, how do you cut through all of that noise and get noticed?
Location is one way, but it doesn't guarantee success, because it's often not what you say, but how you say it. And when it comes to point-of-purchase displays for merchandising, how you deliver your message is also a key factor in growing sales.
Twang Partners, LTD., San Antonio, was using a multipiece, printed, chute-type merchandiser to display and dispense its line of beer salts in 1.4-oz plastic, longneck beer bottle-shaped salt shakers, in secondary unit cartons. The display unit was expensive to produce, inconvenient for consumers and store clerks to use, and failed to display the product to its full advantage, as it was hidden behind two layers of packaging. This resulted in high costs, reduced product recognition, and lower-than-expected sales and profits.
"The original dispenser units were costly to produce," says Mark Escobedo, director of operations for Twang. "To utilize the chute merchandiser, the product had to be in a unit carton, which unfortunately kept it from being seen by consumers. The lack of visibility, combined with the less-than-optimal functionality of the dispensing chute didn't really meet our needs. So we had to find an alternative way to get the product front and center with consumers and make it easy for them to buy."
Despite having an ideal location for its dispensers—the glass door of the beer cooler—Twang was not realizing the sales volume it wanted for the product line. It needed an easier and more cost-effective way to get its product in front of consumers and engage them to use it.
While Twang knew what it needed to do, it took a chance meeting to set the solution in motion. Mark Potter, senior account executive with converter WS Packaging Group, was pitching several shrink-label projects at Twang when Escobedo said, "I'm trying to figure out how to take this beer salt in these little beer bottles and make them stand out in a clip-strip type of display. What do you think?"
Escobedo said a key objective was to highlight the novelty of the packaging. First, the unit carton would need to be eliminated, but there was the challenge of how best to present the product. Says Wayne Detjen, marketing designer at WS Packaging, "The excess packaging was creating extra cost and hiding the product. I wanted to dramatically show the cute, little beer bottle shakers.
"The display needed to be colorful, so consumers would see it, and it also had to graphically communicate how the product is used. In addition, it needed to securely hold the product in place, but make it easy for consumers to remove the shakers. Along with all of this, the display had to be durable enough to stand up to repeated use."
The cooler door was the original merchandising location for the old chute dispenser. With point-of-sale, as with real estate, location is vital.
"The cooler door is really the ideal spot for this product because it's an impulse buy along with the beer that's in the same cooler," Escobedo says. "Twang beer salt is not the kind of product one would exclusively look for, so we wanted to make sure to maximize the impulse-buy aspect by keeping it right in front of the consumer."
Big bottle shape catches consumer's eye
WS Packaging designed a one-piece merchandiser that eliminated the use of 12 printed cartons and sleeves, as well as the carton/sleeve organizer for each display. The new display strip attaches to the door of the beer cooler, so it's directly in the consumer's line of sight. The improved product visibility has led to increased sales.
The display strips, produced at WS Packaging's Algoma, WI, facility, are shaped like a beer bottle and are die-cut with 12 individual tabs, which securely hold the 1.4-oz longneck shakers in plain sight. Each tab is perforated to make for easy dispensing and refilling. Because the displays are reusable and refillable, they offer a long service life and cost-effectively deliver product in a convenient way.
Constructed of 30-mil white, high-density polyethylene, the display is screen-printed using four-color process plus black with a 65-line screen and requires no special finishing, other than die cutting. The HDPE is a stock material, relates WS Packaging, which helps overall cost-effectiveness, but still delivers a highly durable structure that die-cuts easily and holds up well to continued use. And because it's made of HDPE, the display is fully recyclable.
The new merchandiser presents the product in an uncomplicated way, which is quite different from the previous method. The visual impact and overall functionality of the display strongly communicate what the Twang brand is all about.
"By showing the bottles right out in front, in plain view, the new display communicates a lot more fun and lets consumers know right up front that Twang beer salt is a great accompaniment to their favorite beer," Escobedo says. "And because the colorful display is shaped like a giant beer bottle, there's no mistaking the fact this product is for beer. When you see it on the cooler door, it literally jumps right out and grabs you."
A final touch of whimsical connection for consumers is a catchy phrase under each bottle. Some of the sayings include, "Your taste just got better," "Great minds drink alike," "I like to shake things up," and "Beer me," among others.
Twang test-marketed the new display in a side-by-side comparison with the old display in several outlets in San Antonio. As Ecobedo relates, "The new version sold out first, and that was the litmus test as to why this makes sense."
Companies in this article