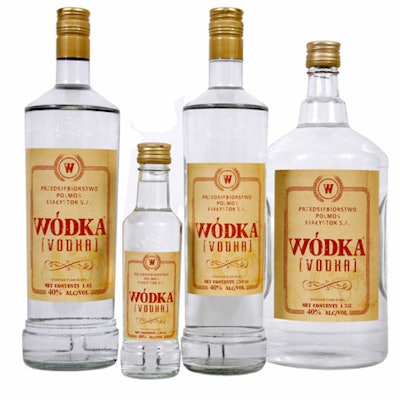 While walking through the Polmos Bialystock distillery in Eastern Poland, Wódka founder James Dale discovered a relic from Poland's communist era: a blue bottle with a slightly tattered label that simply read "Wódka," the Polish word for " vodka," sitting on a display shelf.
Intrigued, Dale researched the mystery bottle. The Polmos distillery, the leading vodka producer in Poland, was a state-owned monopoly founded in the late 1920s that controlled the spirits market, namely because the communist authorities forced all distilleries to become a part of the monopoly. Retaining that original bottle's minimalist design, Wódka aims to stick to its working-class roots by producing quality vodka that's accessible to everyone. Wódka is distributed in North America by Panache Imports.
Glass bottles are supplied by Tur in Poland, with filling done by Polmos Bialystok on rotary filling machinery from Krones, at speeds around 500 bottles/min, depending on bottle size. In the U.S., Wódka is sold in 200-, 750-, 1-, and 1.75-mL sizes.
Aluminum closures are provided by DGS SA and G-3 Enterprises. Bottle labels and cartons are supplied by Cezar. Labeled, filled, capped, packed, and palletized bottles are shipped via ocean freight to Western Carriers, a North Bergen, NJ-based wine and spirits warehouse and transporting firm, prior to shipment to U.S. distributors.
Wódka, a clear, triple-filtered spirit, is available nationwide for as low as $8.99 per 750-mL bottle. It aims to debunk the myth that price, packaging, and its resulting marketing is indicative of genuine taste and quality.
Companies in this article