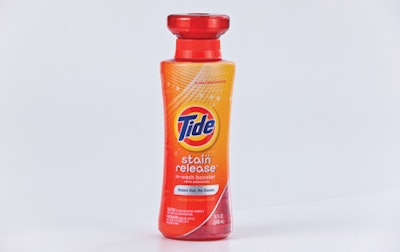 A breakthrough in injection stretch blow molding technology (ISBM) lies behind the recent introduction of a new laundry product from Procter & Gamble. Introduced first in Europe under the P&G Ariel brand and a few months later in the U.S. under the P&G Tide brand, the new bottles are significant because they're stretch blow molded from preforms that are injection molded from polypropylene, a resin not usually associated with reheating and blowing preforms. Previously, preforms used in ISBM have almost always been made of PET.
"Our two years of research and development—which combined design innovation, new high-performance PP resins, and excellent ISBM expertise—have culminated in the development of a new benchmark in household product packaging," says Patrick Etesse, research fellow at P&G's Global Packaging & Device Development R&D group in Brussels. The judges in the 2010 Ameristar Packaging Competition, sponsored by the Institute of Packaging Professionals, were impressed with this breakthrough, as well. They named it an Ameristar winner in the Household Category.
The 500-mL, 1-L, and 2-L bottles were produced using a new PP resin from LyondellBasell called Stretchene. "Stretchene resins provide an outstanding cost/performance balance, and they are an excellent alternative to more traditional materials such as PET and HDPE for ISBM applications," says Etesse.
Also playing a key role in the R&D behind this breakthrough was the European subsidiary of Plastic Technologies Inc., a specialist in high-performance packaging for the food and beverage, household product, and health care industries. Alpla contributed significantly, as well, by executing the injection molding and stretch blow molding expertise without which the innovative bottle could not have been produced.
Why PP?
"We wanted to drive ISBM with resins other than PET," says Etesse. "PET is a wonderful material, but with some product categories it is not compatible. Products containing bleach, like this Stain Release product, are a good example. Stress crack resistance of PET is not the best if a product contains bleach or a high concentration of detergent. Some other household products contain hydrogen peroxide, and that's problematic with PET, too, because the gas barrier of PET is too good. Hydrogen peroxide releases oxygen, which, in the case of PET would cause internal pressure to build to the point where the container would be deformed and unsightly on the shelf. PP, on the other hand, has passive venting properties because it's 30 times more permeable to gas than PET."
So what's wrong with good old extrusion blown high-density polyethylene, the resin traditionally used for household products like Stain Release? According to Etesse, it lacks transparency. It also isn't suitable for use in ISBM, and ISBM, as conversion technologies go, has some real benefits, says Etesse.
"The stretching process that is at the heart of ISBM at least doubles the flex modulus, which improves performance properties and lets you use less resin. Also, it's a conversion technology that gives you very nice aesthetic effects, not just transparency but shine. And in the case of a colored bottle, you can magnify that shine because the colorant that gives the bottle its color is very, very vivid. Extrusion blown HDPE, by comparison, can be a bit subdued. Third, with ISBM you get better control of the neck finish because the bottle is being blown from an injection molded preform. And finally, the ISBM converting platform is not supplier owned. You can develop a container and roll it out globally, as we did with these Stain Release bottles. That is not the case with containers that are extrusion blow molded. If you move a bottle from one supplier in Europe to another one in the U.S., considerable development work is required."
Further development underway
P&G isn't through with its efforts to broaden the use of PP in ISBM containers. Working once again with PTI on the container design side and with LyondellBasell on the resin side, P&G is using ISBM to create a new generation of container handleware. Contributing this time on the stretch blow molding equipment side is Sidel.

The container technology P&G is hoping to commercialize is called Deep Grip packaging. It allows significant grip depth (more than 25 mm or 1 inch on either side) with an extremely thin (less than 0.3 mm or .01-inch) grip "web" thickness. The grip web is where the hole would be in traditional handled bottles. The end result is a grip deep enough for the average hand to completely close around without fingers touching the container wall. The comfort and handling ability is similar to that experienced with a traditional handle.
Once again this approach to container making is an alternative to extrusion blow molding, the process traditionally used to produce most handled bottles. The advantages of ISBM compared to EBM include lightweighting, because once again the mechanical properties of the resin are optimized when the material is stretched in the stretch blow mold cavity. Another advantage is higher output per cavity. "Deep Grip is an extension of the work we've done so far with using PP for ISBM," says Etesse.
The Sidel equipment on which Deep Grip bottles are produced is pretty standard stuff except for a proprietary secondary operation within the same machine that forms the handle.
"Deep Grip technology is an attractive option for brand owners looking to drive weight and cost out of their containers, improve their environmental profile, and create ways to facilitate product differentiation," says Vincent Le Guen of PTI-Europe.
It should be interesting to see just how far P&G and its innovative partners can take this new approach to ISBM.
Companies in this article