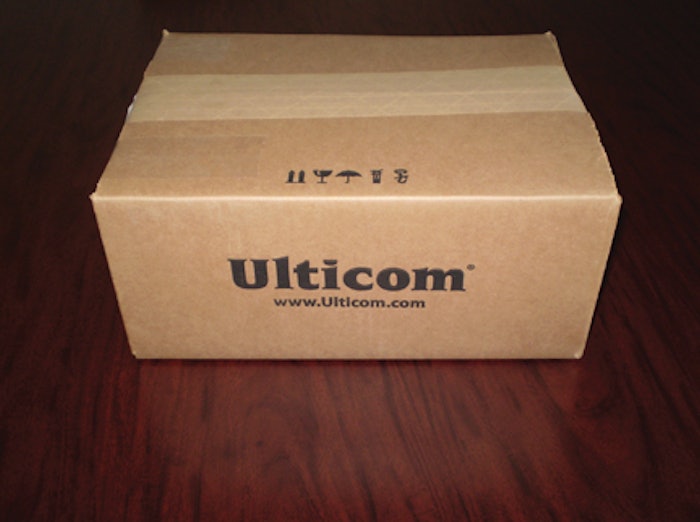 Mt. Laurel, NJ-based Ulticom is a provider of middleware to the telecommunications industry. Its products include the software and complementary electronic circuit boards required by equipment and service providers such as Siemens, Motorola, and Alcatel-Lucent. In early 2008, Ulticom learned that in order to sell its circuit-board products to Siemens in Germany, it would need to redesign its packaging to meet European Packaging and Packaging Waste Directives.
Before doing business with Ulticom, Siemens requested that the middleware provider complete a Statement of Compliance document in order to confirm that their packaging met EU requirements. According to Ulticom senior quality assurance engineer Joe Archutowski, the existing circuit-board packaging comprised a combination of clamshells, corrugated trays, and corrugated shippers. "The main noncompliance was in the amount of wasted paperboard used in the tray design and in our shipping box," he says. The package's polyvinyl chloride clamshells were prohibited under the European directives, as well.
In spring 2008, Ulticom began working with package testing firm DDL, Inc. and Life Packaging Technology LLC, a packaging consultation and design company, to engineer a more efficient package capable meeting the EU directives. From the outset, the team of DDL and LPT engineers understood that in order to create more sustainable packaging, it would be necessary to completely understand the performance characteristics of the product itself, without the benefit of protective packaging.
Paperboard performance is key
Product testing at DDL's facility in Eden Prairie, MN, commenced in summer 2008 and included drop testing of unpackaged circuit boards, which were mounted on a special fixture. Following each test, Archutowski says he visually inspected each board as well as performed functional tests to evaluate if they had sustained any damage.
"We only experienced one failure during the unpackaged drop test," he recalls. This told us that our boards could sustain high-G's [G-force] impact without losing functionality. The data was then used by DDL in designing our new packaging."
In Ulticom's existing packaging, each circuit board was encased in a PVC clamshell to protect against mechanical and EST (Electro Static Discharge) damage. Two clamshells were then placed in a tray, after which one, three, or five trays were placed into a shipping case.
The main function of the clamshells and trays was to protect the boards from damage during shipping. As DDL explains, "It is important to understand that if the packaging does not protect the contents adequately, then not only can the contents be damaged, both the contents and the packaging can be added to the waste stream. Additionally, all the energy and raw materials used to manufacture and distribute the contents will have been wasted as well,"—an important point, as most of the energy used within the life cycle of Ulticom's electronic circuit board is generated during the manufacturing of the electronic assembly.
As DDL's drop tests indicated, however, the electronic circuit boards were more rugged than Ulticom believed, which led to overpackaging of the products. "Our original packaging was designed by our marketing department," says Archutowski. "This is why it was so wasteful and costly."
Cardboard reduced by 60%
In spring 2009, Ulticom began using a new package design created as a result of the information gathered by DDL. The new package continues to use the three components—clamshells, trays, and shippers—but reduces considerably the volume and weight of materials used. "The big difference is in the size and construction of the paperboard trays and outer shipping carton," says Archutowski. "The new design reduces the amount of board by approximately 60 percent and the weight of the packaging material by approximately 50 percent."
In addition, clamshells are now constructed of PETG, a recyclable resin that meets EU Directives.
While the redesign of the new package was prompted by Ulticom's need to meet overseas packaging expectations, the resulting structure is one that is now used both domestically and internationally for its circuit boards. Says Archutowski, "The new packaging is far less expensive to purchase, uses less energy to produce, and takes up less room to store, and our shipping charges are half of what they once were."
Companies in this article