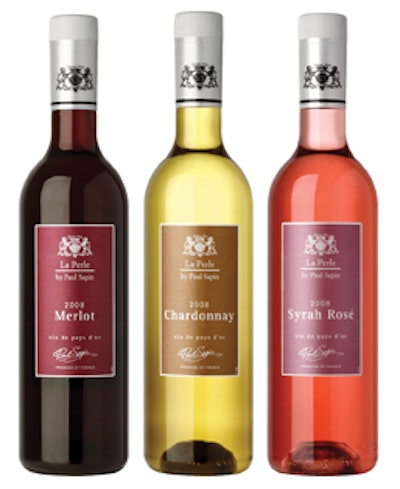 UK-based Roger Harris Wines and Paul Sapin SA in Mâcon, France, are using the innovative bottle for a French brand, La Perle by Paul Sapin, and a South African wine range, Khulu Sky. APPE Belgium coinjection molds the bottle's preform, which is described as having a PET/Bindox/PET structure. APPE France stretch blow molds the bottle. Both 187-mL and 750-mL sizes are made.
These bottles offer considerable environmental advantages, as the MLP bottle is 35% lighter than a full 465-g, 750-mL glass bottle, equating to loading 10,000 more bottles into each transportation container. A move from glass to PET would therefore cut one in three freight journeys. Furthermore, fewer carbon emissions are produced in the manufacture of glass bottles, says Roger Harris Wines, and the MLP bottle is 100% recyclable, including the PE capsule.
Clare Montgomery, Sales Director at Roger Harris Wines, outlined the advantages of the new wine ranges for both consumers and the trade:
"The wine is perfect for venues that have outside bar and drinking areas such as pub gardens, festivals, sports arenas, and holiday parks. On the shelf, the bottle looks just like glass, yet it is safe, won't break and has a plastic screw cap, making it quick and easy to serve then reseal," she said.
Companies in this article