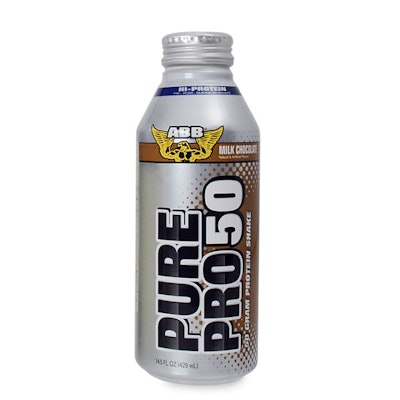 "The resealable Alumi-Tek aluminum bottle is a sports nutrition industry first," says Alan Yengoyan, general manager, growth initiatives, at Aurora, IL-based ABB. "It distinguishes Pure Pro 50 from the pack and represents an incredible convenience to hard-training athletes and 'weekend warriors' who will appreciate the way the aluminum container keeps this performance beverage cool while giving them the option to re-cap it and save some high-quality protein for later."
According to ABB, Pure Pro 50 provides 50 grams of protein from milk and whey and is formulated for bodybuilders looking to move up to a heavier weight class, athletes who typically burn a lot of calories when training or competing, and individuals who need a little help hitting their daily protein target.
This is the first sports nutrition beverage to be packaged in the Alumi-Tek bottle, which is used for other beverages including beer, energy drinks, coffee drinks, enhanced water, and nutraceutical beverages. The 14.5-oz shakes are available in five flavors.
Ball Corp. leverages its two-piece aluminum beverage can manufacturing expertise to produce the Alumi-Tek bottle because the manufacturing technology for both packages is similar. Alumi-Tek bottles employ the same graphics found on cans and are decorated with the same printing process. Ball's aluminum beverage can plant in Monticello, IN, makes all the 8-, 12-, and 16-oz bottles.
Companies in this article