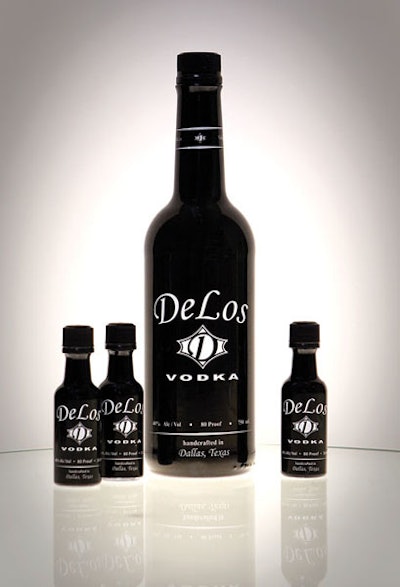 Carlos Guillem is one brand owner leading this trend by introducing one of the first glass vodka bottles decorated with a full-body shrink label for his DeLos Vodka.
Guillem says the distinctive label perfectly complements his vodkas, which are handcrafted in small batches and packaged in 50-mL, 750-mL, and 1.75-L bottles. The label also provides the flexibility to quickly launch new sizes and flavors.
The label uses Eastman's Embrace LV copolyester film, which also supports Guillem's sustainability goals. The film is easily removed to maximize the recycling of the bottle by eliminating the possibility of ink from being printed directly on the glass surface.
"Next to all of the clear glass bottles, we really wanted our packaging to pop on the shelf," Guillem says. "The full-body shrink label enabled us to deliver that impact while still giving us the flexibility to create promotional packages and launch new flavors."
DeLos' package was not without challenges, and printing was one of them. Black is a challenging color to achieve on shrink sleeves, says John McDowell, president of McDowell Label, which printed the labels. To achieve the desired look, high-definition UV ink was used to create a rich black color that couldn't be achieved either by printing on the bottle surface or through etching, McDowell notes.
The brand is distributed in Dallas/Forth Worth, and Guillem plans to launch statewide distribution in February.

Companies in this article