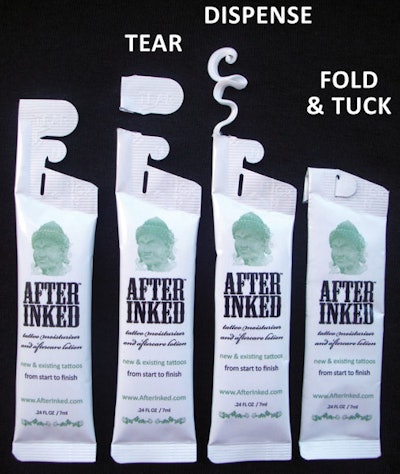 After Inked, LLC, Boca Raton, FL, markets a high-quality line of patented, grape seed oil-infused lotions to moisturize existing tattoos and help soothe and heal new tattoos and after-laser tattoo removals. The company wanted to package these products in small, portable, consumer-convenient, multiple-use, environmentally friendly containers that sported high-quality graphics.
An evaluation of available options led After Inked to Tear n' Tuck tube packaging from Unette. Unette's unique, patent-pending reclosable tubes feature an innovative fold-and-tuck top that allows the tube to be tightly reclosed after each dispensing of lotion. The tubes are available in a wide range of sizes, offer high-quality decorative options, and can be customized with measured doses and product flows. Unette, a contract filler, also offers short lead times to deliver needed tube packaging inventory.
President and owner of After Inked Bill Gerber says, "Initially, we packaged our tattoo moisturizer in an airless system dispenser. Later we determined that there was significant demand for a smaller, more convenient and affordable package. With this in mind and understanding that the quality of the packaging is integral to our brand, we started studying different options, looking for something both unique and practical—something more than just a traditional tube. Unette's Tear n' Tuck tubes were the answer to meet our requirements and our customers' needs. Specifically, we wanted ease of use, portability, multiple applications, minimum product waste, superior structure and performance, high-quality graphics, and packaging material source reduction to reduce the carbon footprint."
Contract packer performance
After Inked's .24 fl oz (7-mL) tubes are made from a laminated structure of foil, polyethylene, and polyester. They are flexo-printed in three colors, and are formed, filled, and sealed at speeds up to 80/min, using proprietary equipment built by Unette. The tubes are produced and filled at Unette's state-of-the-art plant in Wharton, NJ.
Gerber says, "We are very satisfied with the quality of the finished product that Unette provides. Unette CEO Joseph R. Hark has been actively involved in the package development project, directly making recommendations to customize the tube and optimize its performance. And we also have benefited from shorter lead times, eliminating the need to carry large packaging inventories."
After Inked products are available at tattoo studios and laser centers in more than 30 countries and at nutritional and vegan stores across the U.S. Plans also are underway to expand into mass retail markets. Gerber reports, "Our sales volume has doubled since we introduced this reclosable tube packaging. Product is flying off the shelves and even increasing demand for larger tube sizes."

Companies in this article