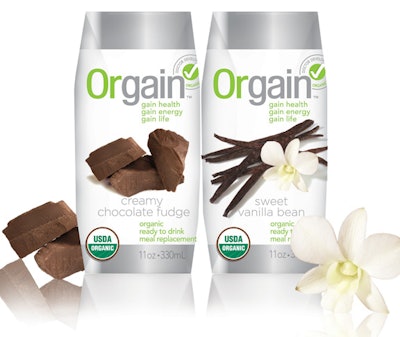 Responding to consumers' hectic lifestyles, Abraham has filled that gap with Orgain, an organic, ready-to-drink, meal-replacement beverage.
Targeting men and women ages 18 to 75, the product also serves as a post-workout recovery drink or healthy snack.
The packaging, from the recyclable, 11-oz tetra pak from Tetra Pak, to the shipper cartons, conveys the purity of Orgain's ingredients and the balance between superior organic quality, health, and science. Moxie TM, working with Abraham, selected a packaging color palette of white, gray, silver foil, and a touch of bright organic green.
"Our objective was to create an overall brand identity and vision that introduces an organic ready-to-drink meal replacement with superior nutritional benefits developed by a doctor," says Tammy Vaserstein, Moxie TM Creative Principal. "By establishing the fresh and modern look with simple photography and a splash of color, we set the stage for all the other brand communication touch points."
Adds Abraham, "Moxie TM was committed to understanding what Orgain is about, and their creativity in design has resulted in an entire brand identity and voice that we have extended to all of our consumer collateral, the Web site, and trade show booth."
Those touch points include the shippers, collateral materials, and the brand's Web site. They feature photographs of fresh fruit and vegetables, and introduce images of people of all ages engaging in physical activity and printed directly on the package. Fun and clever taglines, such as "We are whey better" and "O'h so good," give the brand a voice.
The recyclable, retail-ready, 12-pack shippers are SBS board from International Paper. They are litho-laminate printed in four-color process with two spot colors and a high-gloss acrylic coating for extra shelf pop.
Initially, Orgain's chocolate and vanilla varieties are on shelves at Wegmans Food Markets, Whole Foods, and Fairway Market. The brand also will roll out in natural food stores.
Companies in this article