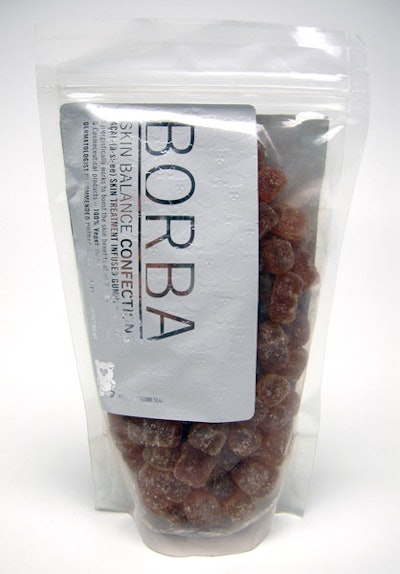 Shoppers spend about $17 of every $100 on private brands. Tom Custer expects that ratio could double in some categories by the end of 2010. Some trackers of store-shelf activity might dismiss his projection as excessively optimistic, but Custer, director of client development at Interbrand, spends a lot of time working with private-brand products.
Those who believe that retailers' brands have been growing primarily because of the recession are in for a rude awakening when consumer prosperity returns, he says. Consumer demand for private brands will continue to grow, and Custer advises national brand owners to prepare their counter strategies now.
To what does Custer attribute the staying power of private brands? He identifies three design principles that retailers are applying to not only help consumers save money, but also find value and build attachment to these products.
• The brand is linked holistically by a set of design principles. However, a clear organization and design system is not overtly apparent.
• The design strategy is flexible. The brand differentiates across an architecture system to be visually appropriate for each product grouping or tier. This approach helps create a clear organization among the brand's individual product offerings while also still appearing to be visually holistic.
• The design strategy is consistent. It enables the brand to carry the same look across all products and categories for a more consistent appearance and feel.
These three principles define the emergence of what Custer describes as private brands—more sophisticated evolutions of traditional private-label products. Private brands—one example is Target's Archer Farms ready-to-eat cereal—appear to be national brands because they don't carry a retailer's logo or other information that readily ties them to the store, as private-label products do. Private brands may equal or exceed the retail price of national brands. As such, they carry a higher perceived value to the consumer than private-label offerings, which are the lower-price alternative to national brands—but which also are displaying better package design in their own right.
And because retailers understand their specific shoppers better than national brands, their own brands are becoming innovative leaders in areas that have an impact on consumers' lives.
It's all about driving value. In outlining what's driving private brands' success during an October presentation at Pack Expo Las Vegas, Custer emphasized to an audience that "price is your way in, but value has endless definitions."
A future in 'Simplistic Slowdown?'
Valerie Jacobs has a different slant on value and how it could affect retailers' brands. Jacobs, a forecaster at LPK Trends, notes a shift in consumers' values and how they think of those values. Though she acknowledges that the steady strengthening of store brands predates the recession, she also believes that retailers have reached a critical crossroads, saying, "If they don't stand out by standing for something, some consumers will switch back to national brands, and retailers will have lost this golden window of opportunity."
She has identified a social-cultural movement she defines as "Simplistic Slowdown," in which consumers are beginning to slow down their lifestyles, find fulfillment in each other, and redefine what is truly worthwhile. Jacobs believes this trend could propel store brands as retailers define what the simplicity movement means for their shoppers and introduce packaged products that reflect their own unique positioning. Brands such as the BORBA line of beauty products sold at Sephora shops fit this movement toward improved health and wellness.
"We don't see a return to old spending values," Jacobs says. "This is a long-term impact. People are going to be more focused on taking care of things they already own, and extending the life of what they already have. This might allow retailers to drive traffic to their own brands in multiple categories by inducing trial."
Market-segmenting strategies
So how should national brands study what's happening with store brands? They should be able to identify and understand three basic segmenting strategies that retailers have embraced as the foundation for their marketing strategies encompassing both traditional private-label products and increasingly, at a higher level, private brands.
One strategy is the traditional private-label approach. An example is Walgreens' brand of cough syrup. The packaging closely resembles that of a leading national brand. But those interviewed for this article warn it would be an egregious error for national brands to think this approach continues as a main driver of private-label thinking. Many retailers are introducing multitiered approaches in which a product in "me-too" packaging targets one segment of a category. At the other end of the category, in separate packaging, a "better" or "best" quality product engages a different segment of the category.
A second strategy is what Custer defines as "value innovator" brands. These are a store's proprietary brands, and Custer explains that they play a specific role by offering the best price-performance ratio. This strategy has the objectives of providing the best value, building customer loyalty, and generating word-of-mouth interest. Value innovator brands, he adds, offer either lower price and equal quality or equal price and higher quality to national brands.
Target's Up & Up is a well-executed example. Rather than mimic the look of national brands in categories such as infant care, the brand stays true to Target's embodiment of pop art design, delivered to the masses across more than 800 products spanning in excess of 40 categories.
"Our guests are savvy and know they don't have to spend a lot to get high-quality products," says Mark Schindele, Target's senior vice president of merchandising. "By relaunching the Target brand as Up & Up, we're able to create a unique identity for this powerful owned brand. The new packaging incorporates an element of design, giving us the opportunity to deliver on both the 'expect more' and 'pay less' sides of our brand promise."
With the new packaging, Up & Up appears to be a national brand. Target's logo appears nowhere on the label. Prior to introducing Up & Up, Target's branding team reviewed more than 4,000 shopper comments on the quality and performance of its own-brand products. Two changes resulted from the insights gleaned from shopper input: More than 130 products in the line were reformulated or enhanced. In addition, an independent testing facility examined most of the former Target brand products for characteristics such as flavor, aroma, ease of package opening, and appearance. These tests, Schindele says, helped to affirm that Up & Up products are equal in quality to national brands.
As a third strategy, retailers are introducing brands offering high quality and value and that are available only at their stores. They can be the retailer's private brands or licensed brands. Either way, they are distinctive destination brands that bring shoppers into a particular store.
In the Northeast U.S., one enticement that lures shoppers to Wegmans Food Markets is its distinctively flavored food products. Its Jammin' Organic fruit spreads and Food You Feel Good About and Italian Classics pastas and sauces deliver exclusive flavor profiles with the help of an in-house culinary expert. The packaging signals the point of difference with labels including brand "romance" copy, and twist closures from Crown Closures Americas that make the containers easy to open and give each product a "homemade" look to complement each flavor profile.
"We rely on our supplier partners to put us in the right equipment and materials," Mike DeCory, vice president of Wegmans brands, tells Packaging World. "Will it seal in product freshness and provide food safety? Can the closures have colors on them to help the shopper make her selection more easily? We're very happy with the quality and consistency of our products, both from a flavor and taste profile and from a freshness profile."
Managers of national brands should especially investigate what's happening with the latter two design strategies, because that's where the true innovation is occurring. In some cases, it is bringing new visual appeal and better package functionality—study the innovative canister for Archer Farms ready-to-eat cereals at Target—to a variety of categories.
Evolution to share-of-lifestyle
By looking at these strategies, Custer says, it's easy to understand private brands' surge as a formidable competitor to national brands. Store brands began as a share-of-wallet proposition, focused on lowest price. In a share-of-wallet scenario, product attributes are paramount, and functional benefits are important to some degree.
As private label evolved into share-of-mind, functional benefits became much more important, and emotional benefits also came into play. Today, private label has moved into share-of-lifestyle; emotional benefits are important, but so are inspirational benefits. These concepts are depicted in Fig. 1 and Fig. 2.
Such an evolution, LPK Trends forecaster Jacobs adds, will give consumers opportunities to better understand individual retailers as distinctive brands unto themselves. "Once a store can start to stand for something, the store can solidify its own emotional connection with consumers," she explains.
A&P illustrates this point. It has adopted a positioning of healthful living as a marketing strategy for its pharmacy department. Live Better, a new own brand spanning more than 1,000 SKUs across multiple products, ties directly into this marketing concept.
The Live Better lineup of OTC pharmaceutical and beauty products elevates lifestyle considerations over price, says Todd Maute, senior vice president and partner at CBX Strategic Branding, which created the design.
Packaging is vital in communicating the lifestyle message. The labels emphasize the Live Better brand rather than identifying the brand as an A&P offering. The Live Better logo forms a banner stretching across a sky-blue background and enhances the brand's efficacy message. The design unifies and identifies the individual products in the Live Better family so consumers can find them easily in categories that are crowded and complex to shop. A color band system calls out product benefits and differentiates the products. The design also addresses challenges associated with multiple packaging surface types, print technologies, and imagery.
More work to do
So with a firm set of design principles and brands spanning multiple tiers, retailers seem to be on the verge of locking down ownership of many categories across the store. Not so fast, counters Dennis Furniss, partner and executive vice president at Kaleidoscope Branding. Furniss still sees some fundamental cracks in the armor.
Foremost, he believes, both CPG companies and retailers have overly complicated the national brands vs. store brands issue. National brands on the whole portray themselves as category masters while many retailers continue to focus their own brands primarily as the lower-priced alternative.
Furniss believes both sides should concentrate more on providing both tangible and intangible benefits that are plausible to consumers. "Don't be a brand duplicator or replicator. Is it just on price? Then I'm not buying into value," he says.
Emulate Virgin Airlines, he advises. The air carrier emphasizes passenger convenience and comfort while other carriers tout their size.
Second, retailers need to make smarter category decisions. He still sees a lot of questionable effort being expended in creating low-cost alternatives to national brands that clearly dominate in some categories.
Furniss advises that retailers would do well to instead focus on business models such as Tesco's. The UK-based international grocery giant identified gaping holes in the wine department within its stores, and it has taken category ownership with its own brands through tactics such as forging a partnership with E.&J. Gallo Winery. Consequently, Tesco has earned a reputation in Europe as a destination retailer for wine.
Finally, Furniss mentions the need to create more intelligent shopping experiences. Consumers shop in good/better/best mode, but in Furniss' experience working with both national and store brands, brand managers make mistakes when they don't thoroughly understand what consumers are willing to trade up to within their category.
"And some retailers also are confrontational when we talk to them," Furniss observes. "They are into vertical thinking versus horizontal thinking. They need to think a little more. What are the opportunities to build across a category, rather than merely adding an alternative product?"
So it appears that heading into 2010 and beyond, the stage is set for some healthy competition on a more sophisticated level between retailers' brands and national brands. However, while retailers clearly are leveling the playing field in package design, significant gaps continue to remain between consumers' desire to shop categories horizontally and brand owners' penchant for presenting their product offerings more vertically. If those holes can be plugged, so much the better for satisfying consumer wants and needs and, by extension, increasing brand sales through improved shopper loyalty.
• Editor's note: Look for Private-Label Packaging—Part Two in the January issue of Packaging World.