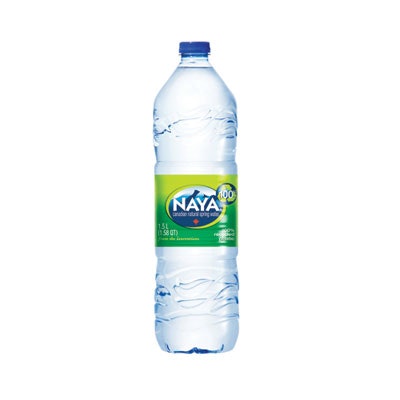 In harmony with its stated company philosophy – "To offer natural spring water of exceptional quality while minimizing our environmental footprint" –
Naya Waters, Inc.
of Mirabel, Quebec, Canada, has become the first still-water provider to offer its product in bottles made from 100% recycled PET (rPET). The Dec. 1 launch is the result of seven years of research and development, Naya president Daniel Cotte told
Packaging World
on the day of the debut. "What we are doing today is a very significant step toward setting and reaching tangible goals," he said.
The first Naya Natural Spring Water product to be offered in 100% rPET is the 1.5-L size, available in New York City. Cotte says the company plans to have switched all five of its bottle sizes, distributed within Canada and New York City, to the new material by the end of January.
Naya is one of several new packages making their debut this year in 100% rPET. Others include the
Naked Juice reNEWabottle
for juice beverages, and
a clamshell from Earthbound Farms
for its organic, fresh-cut salad.
For Naya, the transformation to 100% recycled content was gradual, Cotte explained. The company first moved to a 25% rPET bottle in 2008, followed by a 50% rPET package. The main challenges to executing a 100% rPET bottle, Cotte said, related to manufacturing, cost, and container-quality issues. "It's quite a technical challenge to blow bottles with 100 percent-recycled PET and to deliver a bottle that is going to be consistent in terms of color and shape," he said. "The biggest challenge though was safety – to make sure that weren't taking any risks with having some substance in the containers."
R&D for each bottle iteration involved nine-month data-gathering process to ensure the bottle's safety. "We had an extremely stringent, tough quality protocol at each of the stages in the journey," Cotte relates.
Naya's comprehensive testing of the bottle also included a Life Cycle Analysis, which revealed a 30% decrease in the carbon footprint of the 1.5-L bottle size versus one made with virgin PET. Cotte told
PW
that Naya is the first Canadian company to have its carbon footprint certified by the
Carbon Trust
.
Laying off the landfill
One of the significant advantages of the new 100% rPET bottle, Cotte told
PW
, is the fact that it will reduce waste going to landfill. Recycled PET, he explained, can be used indefinitely until the total recycling stream reaches 50 percent virgin material – a long way off, considering
the U.S.'s 27% PET recycling rate
.
For this project, Cotte said Naya has secured a supply of rPET to meet its needs. "At the same time, we believe that by putting this packaging on the market, we are helping to create an awareness behind recycling," he added.
The company has also said it plans to implement programs to help collection efforts and to create a permanent recycling loop in conjunction with some proprietary rPET manufacturers. At present, rPET is more expensive than virgin materials – a cost that Cotte said Naya took on in order to meet its environmental targets.
"This is definitely the vision that we have and the hope that we have," Cotte concluded. "We have been extremely committed moving through this journey, so today is a big day for us."
Companies in this article