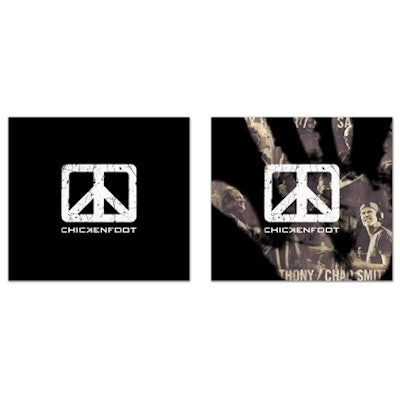 There's more to the debut-album packaging of rock band Chickenfoot than meets the eye. On first glance, the standard-size paperboard CD package appears plainly decorated, with a black background and a white symbol and band name on the front cover. Upon first touch, however, much more is revealed.
The secret surprise to the unassuming package is the use of a nontoxic, thermochromic ink from Chromatic Technologies Inc. (CTI, www.ctiinks.com) that changes its appearance above and below 84º F. At room temperature, the CD cover is opaque, but when it encounters body heat, the ink appears transparent at the point of contact, revealing photography of the band members and copy.
As CTI explains, the patented technology works by mastering the movement of a proton—essentially disconnecting and reattaching protons to turn colors "on" and off." Depending on the room temperature or body contact, every album cover may look different at a different time—a feature that album designer Todd Gallopo, president of Meat and Potatoes, Inc. (www.meatoes.com), thought ideal for this album.
Chickenfoot is a new band comprising former Van Halen frontman Sammy Hagar, guitarist Joe Satriani, Red Hot Chili Peppers drummer Chad Smith, and former Van Halen bassist Michael Anthony. Says Gallopo, "How was I going to design an album package for rock legends who have seen it all before? The band and I agreed that the design had to be bold, iconic, and layered with texture like the music they recorded. It had to have a visual 'ah-ha!' factor that pulled it all together.
"To achieve this, I knew I had to experiment with some kind of special packaging treatment. When I explored the possibilities of thermochromic ink, all the pieces fell into place. The band had their bold album cover, I had my 'ahh-ha!' moment, and the consumer will get to experience a different album package every time they pick it up."
To see a demo of the album cover in "thermal" action, go to http://chickenfoot.us/album
Companies in this article