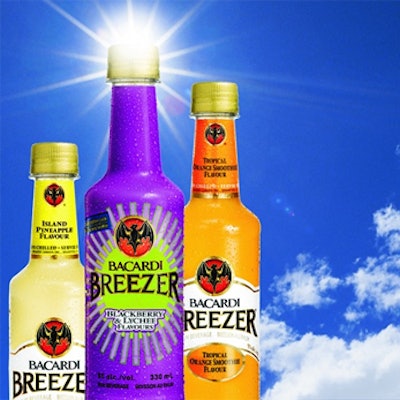 Bacardi Canada's full line of 11 Breezer® rum beverages is now on store shelves in new PET bottles from Amcor PET Packaging (www.amcor.com). Notes Bacardi, converting from glass to PET for the carbonated alcohol drink not only improves the brand's environmental position, but it has also enhanced its market position with consumers.
"Our customers prefer PET for this type of ready-to-drink beverage. It is more consumer-friendly," says Dale Harrison, materials sourcing manager for Bacardi Canada. "We like it because it's lighter than glass, and it is ideal for many outdoor venues where Breezers is consumed. The new package also comes with a resealable screw cap, which the glass bottle did not offer."
While consumer preference was the primary factor in Bacardi Canada's decision to convert, Harrison says transportation cost savings due to lighter-weight containers and the environmental advantages of PET reinforced the company's decision. Bacardi is now benefiting from a significant case-weight reduction of nearly 30% with the new PET packaging. Each 330-mL PET Breezer container weighs 38.8 g, compared with 244.5 g for glass, resulting in a case weight of 9.9 kg compared to 14.7 kg.
From a carbon footprint standpoint, the conversion has resulted in a 22% reduction, says David Clark, Amcor PET director of sustainability. He adds that future shifts in production at the Brampton, Ontario, facility where the bottles are manufactured could drive that percentage even higher.
Before the conversion to PET could be made, though, Bacardi insisted that several requirements be met. "We wanted the same profile as our glass bottle," Harrison says. "It also needed to perform like the glass bottle in terms of maintaining the same carbonation level and shelf life. It was a challenge."
Says Amcor project engineer Todd Mastic, "The round, champagne-style base on Breezer bottles typifies this category of beverage in the marketplace. Bacardi wanted to retain this shape, yet Breezer also has a higher level of carbonation than competitive products packaged in PET," requiring the bottle to withstand greater pressure.
Soft drinks in PET use a five-footed pedaloid base specifically designed to handle this much carbonation, and Bacardi's desire to keep the champagne base represented a significant challenge.
"We wanted consumers to still associate this iconic shape, including the bottom being round, with what has previously been on the shelf," Mastic says. "The base of the bottle is the key for carbonation. The rest of the container is cylindrical, so it doesn't change much in dimension when you pressurize and carbonate the container. But the base is the area that must withstand the pressure.
"By incorporating base and heel inserts in our unit mold, we were able to produce and test containers in our own lab with a number of different base designs. We performed carbonation studies before selecting the optimum container to recommend. This enabled us to create a package design that met customer requirements."
Since being unveiled, Bacardi Canada's conversion to PET has drawn kudos from the Liquor Control Board of Ontario (LCBO), which operates 600 retail outlets for alcoholic beverages. LCBO documents indicate this type of container reduces waste by more than 90%.
"We are pleased to see more alternative packaging like the Breezer PET container," says Chris Layton, LCBO media relations coordinator. "We encourage more companies to follow Bacardi Canada's example."
Companies in this article