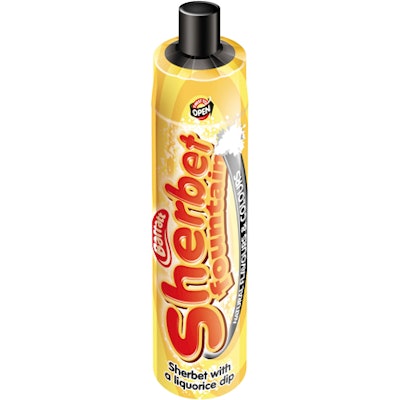 A custom-made plastic tube and lid manufactured by RPC Containers Market Rasen (www.rpc-marketrasen.co.uk) is at the centre of Tangerine Confectionery's major relaunch of its iconic Sherbet Fountain brand.
Since its launch in 1925, Sherbet Fountain has been famous throughout the UK for its paper packaging, which allowed the product's liquorice stick to protrude for a distinctive appearance. The new pack marks a bold attempt to meet the requirements of modern retail without compromising on the overall visual effect of the familiar tube.
"Many people remember the old pack as a sweet icon from their childhood," comments Gill Lanty, head of marketing at Tangerine Confectionery, "but in order for the product to be here for another 84 years we knew that it needed to appeal to new generations. Our new packaging has only been launched after going to great lengths to find out what our customers would like best and as a result we have maintained the essence of the brand experience, licking the liquorice stick and dipping it into the sherbet."
Tangerine's key objectives were to improve the consumer experience (including an update of the recipe to incorporate all natural colours and flavours) while meeting the safety and product quality requirements of leading retailers. This led to the creation of a robust pack that is sealable for tamper evidence and prevents the powdered sherbet from escaping.
Plastic was deemed the suitable for the relaunch and Tangerine turned to RPC Market Rasen, a specialist in the manufacture of creative custom moulded packaging. Another benefit was that the site's locality chimed with Tangerine's desire to use a British manufacturer for logistical ease and reduced environmental impact.
The injection moulded pack comprises two fully recyclable components—a PP tube and a black HDPE lid—that mimic the brand's famous "liquorice effect." The revamp is completed by printed shrink sleeves, manufactured by CCL Decorative Sleeves (www.decorativesleeves.com), which provide a modern twist on Sherbet Fountain's red-and-yellow branding by using a matt finish to mimic the texture of paper.
"RPC Market Rasen has highlighted its excellence in the manufacture of the new packaging and has worked incredibly hard to help us create a new format for Sherbet Fountain to truly take the product into the next 100 years," confirms Helen Sears, Group Marketing Manager at Tangerine Confectionery.
Companies in this article