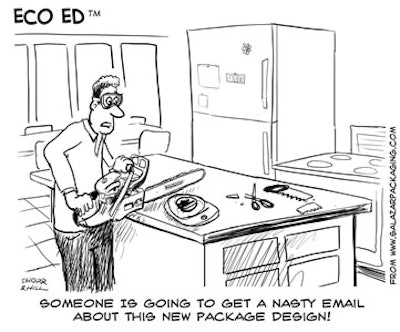 Balancing sustainability and luxury in food packaging
Lisa Baer, President, Baer Design Group, Designer
Can luxury food packaging be green? How can you utilize environmentally friendly materials and still create an upscale image? In the particular case of food packaging, where product protection is always the first priority, how can the packaging be green, luxurious, and safe? Can sophisticated design carry the message? What examples of upscale food products have you seen with a great balance of green and luxury?
Read 2 responses to this question: greenerpackage.com/node/1205
Are natural plastic resin substitutes really good for the environment? "
Waterboy," National Packaging Manager, DS Waters, Packager
I am wondering how good bioplastics really are for the environment. There are the well-publicized PLA resins and the recent PET filler announced by Coke that uses a molasses-based filler to remove PET content. But what actual benefits or costs do these replacement plastics have? 1. There is the claim that the resins are completely recyclable; however, when you talk to a recycling company, they hate these hybrid resins because they pollute the PET stream. So how recyclable are they? Do they do more harm than good to the recycled regrind quality? 2. What is the effect on the world food supply/cost when large quantities of corn and other important food grains are pulled from the food market and transferred to the plastic resin market? I personally am nervous about these resins and the quick notoriety that they are getting. In the end, these may end up to be the way to go, but I feel that we need to understand the costs and benefits for these resin substitutes better before we start waving the flag to promote them as mainstream plastic alternatives. What do you think?
Read 3 responses to this question: greenerpackage.com/node/1167
Companies in this article