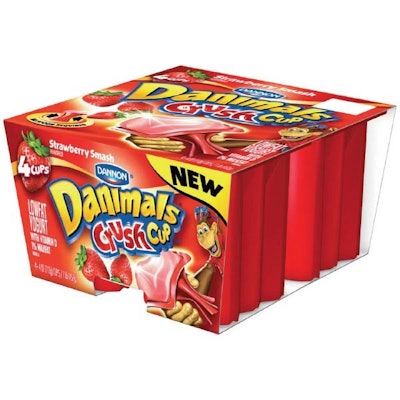 Danimals brand yogurt from The Dannon Company, Inc., White Plains, NY, offers a new wrinkle: The yogurt is sold in "crush cups." The cups are molded with accordian-style pleated sides that permit them to be squeezed to dispense the yogurt for direct eating from the cup.
"The Crush Cup makes it even more fun for kids to enjoy Danimals, and it's easier to enjoy on-the-go because no spoon is needed," says Dannon senior director of public relations Michael Neuwirth.
The Danimals Crush Cups were shipped to retailers nationally beginning in mid-January.
"Our customers [retailers] have enthusiastically accepted this new product because they see the innovation of the packaging design and the significant marketing investment Dannon is making," explains Neuwirth."The initial feedback from consumers is also extremely positive, both about the product as well as the advertising."
The CrushPak® (www.crushpak.com) package was licensed to Dannon through EverEdgeIP (www.everedgeip.com). Previous CrushPak customers have included Fonterra New Zealand, the world's largest dairy exporter. In 2006, it became the first company to introduce the CrushPak for its Splatz yogurt (see packworld.com/article-22456).
The Crush Cups are produced in Dannon's plant using existing Arcil ( www.arcil.net) thermoform/fill/seal equipment. "We interchange the Crush Cup mold with the mold for our regular four-ounce cups," Neuwirth explains. The cups continue to be thermoformed using polystyrene sheet.
Because of the pleats, the Crush Cups are easily compacted, taking up less space when discarded, though that's not a benefit that Dannon is promoting, says Neuwirth.
Although the CrushPak promises material reductions of up to 35% due to container strengthening from the pleated sidewalls versus smooth-walled containers, Dannon is not making such a claim for its Crush Cups, Neuwirth adds.
The MSRP is $2.49 for each four-pack of 4-oz Danimals Crush Cups.
Companies in this article