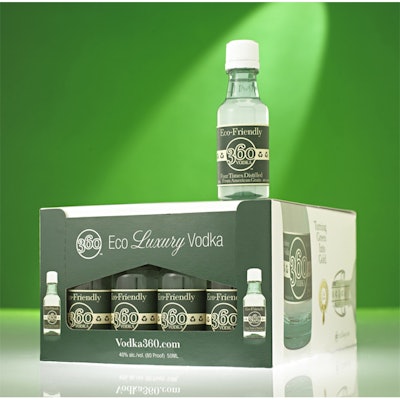 In a first for the liquor industry, McCormick Distilling Co., Weston, MO, has introduced a 100% post-consumer recycled PET container for its 360 Vodka product. Supplied by Amcor PET Packaging (www.amcor.com), the 50-mL bottle is being marketed by McCormick's Earth Friendly Distilling Company division for the "eco-luxury" vodka. 360 Vodka was launched in 2007 and is crafted from natural ingredients using energy-saving and other environmentally friendly practices.
"This new 100-percent PCR bottle is a 100-percent fit with our entire 360 Vodka profile," says Jim Zargo, McCormick Distilling Co. president and COO."
According to Amcor, the carbon footprint of the 100% PCR vodka bottle is 60% lower than virgin PET, which the company supplies for other McCormick brands.
As Zargo explains, the new bottle came about through McCormick's close partnership with Amcor. "Since we have many projects in development, I visited their facility in Nicholasville [KY]," he recalls. "I saw Amcor's one-step [bottle blowing] process and know they are doing quite a bit of 100-percent PCR work. Although we initially looked at glass bottles for our 50-milliliter size because our larger 360 Vodka containers are 85 percent-recycled glass, it was prohibitively expensive for a bottle size that typically is used for samplings and promotions.
"The idea of doing PCR for our 50-millileter size came up. Amcor said they could make it work and that they had the supply to handle our volume. So we came back and presented the idea to go with 100-percent PCR and be the first one in the market. Everybody agreed."
PCR content proves challenging
Notes Amcor PET Packaging's director of Sustainability, Dave Clark, the company is actively encouraging the increased use of PCR in its customers' packaging because it is equipped to handle the manufacturing challenges. "PCR requires extra attention and expertise because it is more difficult to work with than virgin PET," he says. "It requires special storage and special equipment for blending, and usually only certain lines are set up to do that."
Clark adds that Amcor is vertically integrated for PCR product, providing its own supply of U.S. Food & Drug Administration-accepted food-grade PCR from its facility in Nicholasville.
While the basic quality of recycled material collected is one factor, even more critical is the way the material is reprocessed into PCR resins, Clark explains. "We have invested in new PCR processing equipment and have partnered with PolyQuest [www.polyquest.com], a recycled material processor in South Carolina, to develop our own food-grade PCR," he adds.
The 50-mL 360 Vodka bottles are blown on a one-stage platform. According to Michael Warkentien, Amcor's Nicholasville plant manager, this is done because it is the quickest and most cost-effective method for production runs of this size.
Color and cap count
Achieving the correct color was also critical for the luxury vodka product. "Our 360 brand packaging color specifications are pretty tight," Zargo says. In the same vein, Amcor's Clark emphasizes that "the biggest issue for a premium product such as liquor is that you need a good looking bottle and the brand color must be exactly right."
Says Warkentien, "There's a range of coloration with PCR. The clarity is not the same as virgin PET, but we've been doing this for quite a while. We do a lot of nonstock, custom bottle designs and often have to come up with special colorant blends to meet specific needs, including unique colors for virgin PET containers of other McCormick brands."
To literally cap off the eco-friendly project, McCormick specified a #2 high-density polyethylene closure for the bottle, rather than standard 18-mm polypropylene caps, which are not accepted by many recycling operations.
More PCR packaging on tap for McCormick brands
The new 50-mL 360 Vodka bottles are being shipped to retailers in two ways. Bottles shrink-wrapped in 10-packs typically are put into "fishbowl" bins at point of sale. The 30-pack carton doubles as a counter display and highlights numerous resource and energy savings that result from the 360 Vodka manufacturing and distribution process.
"Our 360 Vodka is the icebreaker," Zargo says. "We are planning to go into our other components with Amcor, including our 1.75 liter, 750 milliliter, and the like. Our goal is to take at least 25 percent PCR into our other packaging, and 100 percent PCR could become standard for all 50-milliliter bottles. We need a secure supply chain because we have plenty of volume."
While acknowledging Amcor's extensive PCR capabilities, Zargo cautions that each brand's unique identity will be addressed in the process, and the portfolio switch won't happen overnight. "We'll take it line-by-line and size-by-size."
Companies in this article