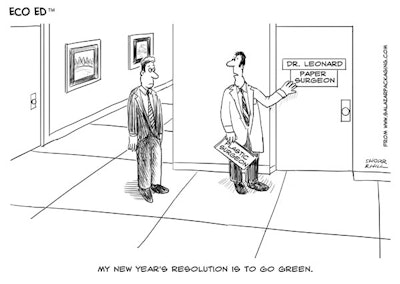 ■ The European Organization for Packaging and the Environment (EUROPEN) and Efficient Consumer Response (ECR) Europe are jointly producing a nontechnical guide to packaging and sustainability, covering the entire lifecycle of the packaging supply chain. The guide, expected to be published next June, will attempt to clarify and define the term sustainable packaging so that supply chain, consumers, and regulators understand what is meant by the term sustainable packaging.
■ The Industry Council for Packaging and the Environment (INCPEN) and UK Government Agency Envirowise have collaborated on a new design guide aimed at helping product and packaging designers, as well as marketing and procurement managers, improve the sustainability of a package's design. The guide explains how to minimize the total amount of resources consumed. The guide covers all stages of the packaging lifecycle from production to end-of-life management.
■ In his new book Strategies for the Green Economy, Joel Makower distills his more than 20 years of reporting on and consulting with green businesses. Makower offers insights for understanding the complexities and controversies of profiting in a green economy.
■ PMMI added a new interactive educational feature to Pack Expo '08. The Sustainable Packaging Scorecard Information Center was staffed by a team of scorecard consultants and trainers who offered free one-on-one consultations during the show.
■ GO-GREEN rigid polypropylene trays from Coextruded Plastic Technologies are manufactured using a proprietary thermoforming process that is designed to lower environmental and energy footprints. The process utilizes 30% less energy and less material and emits 21% less CO2. Pack Expo attendees chose a GO-GREEN package for Kids Organic as the winner of the 2008 Pack Expo Selects competition.
■ International Dispensing Corporation (IDC) announced at Pack Expo '08 the results of a sustainability lifecycle analysis of its bag-in-box product line, the MultiServe SafePak. The analysis highlighted the environmental advantages of this packaging system in areas related to comparatively lower resources and energy consumed and greenhouse gases generated. The MultiServe SafePak enables shelf-stable liquids in packages from 500 mL to 6 L to be dispensed safely and repeatedly over extended time without refrigeration. The form-fill-seal bags are made from co-extruded nylon. The key to the long shelf life after being used the first time is a proprietary dispensing system.
■ Online retailer Amazon announced a Frustration-Free Packaging program. Frustration-Free Packaging is recyclable and comes without excess packaging materials such as hard plastic clamshell casings, plastic bindings, and wire ties. Product packaging is designed to be opened without the use of a box cutter or knife and will protect the product just as effectively as traditional packaging. Products with Frustration-Free Packaging can frequently be shipped in their own boxes, without an additional shipping case. The company says it currently offers a selection of toys and consumer electronics products in Frustration-Free Packaging and that the program will grow to include a number of products. Amazon offers video and photos illustrating the new program.
■ Fetzer Vineyards says it will save 2,200 tons of glass annually through a 14% reduction in glass content of its wine bottles. The new 750-mL bottle weighs 15.5 oz.
■ Crown Bevcan Europe & Middle East, a business unit of Crown Holdings, Inc., is supporting Hydro, the third largest integrated aluminum supplier in the world, in Hydro's efforts to raise awareness with consumers about the sustainability benefits of aluminum. Hydro is giving away 600,000 specially designed beverage cans during promotional events at university campuses and communities across Germany and Norway. Manufactured by Crown, the cans will carry a series of different messages, including "I'll Be Back." The cans contain sparkling water.
Companies in this article