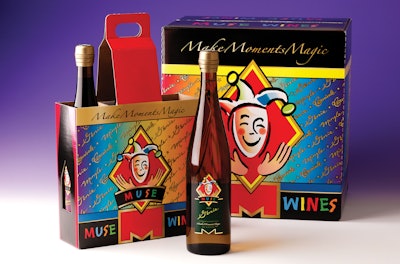 Muse, the mythological source of inspiration, has its real-world packaging incarnation in a wine introduction that encompasses innovative primary, secondary, and tertiary packaging. Muse wine from six-year-old Solomon Wine Co., Modesto, CA, uses a colorful, display-ready case that opens to reveal more layers of packaging creativity: Inside are four three-pack carriers ready to take home, with each bottle topped with a reusable "cork" closure.
"We bring award-winning wines in a bottle itself that's compelling, bright and colorful, and easy to open," offers Solomon founder and president Scott Heron. "But we've also addressed the needs of retailers and distributors in bringing to market a package that ultimately allows consumers to easily take away more bottles."
Introduced regionally in early 2006 and now distributed in about 25 states in three varieties—Carnivale, Genie, and Mingle—Muse received its new packaging for its third vintage released in mid-summer 2008. The brand's new "costuming" coincides with distribution expanding nationally.
Although Muse vintages have been released over the past two years, the packaging is so different in this latest incarnation that Heron views it as a debut rather than a relaunch. He felt Solomon needed to bolster the packaging for wider acceptance, and in doing so the company has managed to put the fun into functional packaging.
"Our ambitious plan is for distribution in all states and through multiple channels," says Heron. "We've come up with an awesome national distribution delivery system through the packaging, which brings together all of the retail benefits that were missing before. This provides a point of difference and a compelling and meaningful retail presentation. The retailers' reaction is that this packaging is very cool. No one has seen anything like this in wine."
Said to represent the company's fun and frivolous side versus Solomon's other pricier Garsa and Cloud 9 wine brands, Muse packaging represents creativity and attention to detail. "We are essentially one winery with multiple personalities as each of the brands has its own personality, wine profile, and target audience," Heron explains.
And each has its own appropriate packaging. Outside-in, the Muse packaging includes:
1. An impactful display-ready case based on carefully crafted design details that is a step above the norm and includes a back billboard that unfolds above case level.
2. Four three-bottle carriers equipped with double-layer-thick handles for convenient, sturdy hand holds.
3. Bottles topped with easy-open, reusable closures (see sidebar).
Continuity is maintained across all three package layers using playful, impactful graphics created by Solomon staff, including Dave Garset, whom Heron describes as "an awesome graphic designer."
All in all, this complex packaging development project compelled Solomon personnel to rely on vendors that were as meticulous as they were.
Innovation on display
The display case, developed hand-in-glove with the carrier, measures 13 x 131⁄2 x 91⁄2 in. The case, constructed of B-flute corrugated, and the carriers, made of E-flute corrugated, are printed offset in five colors and supplied by Pacific Southwest Container (www.teampsc.com). Solomon managers credit PSC, especially Ryan Perkins, with input on the packaging, which was developed over an 18-month period.
Solomon's marketing director Rich Boone, a 30-year industry veteran, says the display-ready shipper is an integral part of the total package. "This is the first effort to make the shipper an active part of the total personality of the brand" he notes. "It doesn't end with the bottle."
The case sets up in several steps, starting with removal of a perforated strip along the top that runs down the side panel, across the front bottom, and then back diagonal across the other side panel. That leaves triangular pieces along the side panels—that are discarded—and frees the top panel, which is then tucked inside two half-moon-shaped die-cuts in the case's back panel. That permits the upraised back panel to provide a prominent billboard of the Muse character, which peers out invitingly over the case of carrier-packed bottles.
The carriers measure 91⁄4 x 91⁄4 x 3 and feature double-thick handles that fold up for use and die-cut openings on the end panels that provide a window to the bottle's label.
"We have learned that a typical wine purchase in a store is two to three bottles, so we came up with a way to help customers very easily leave the store carrying three bottles versus one," Heron says, adding that "no one else has engineered a collapsible three-pack for wine bottles." The auto-bottom carriers, which can be easily erected and folded flat, are shipped flat to the bottling operations and later can be quickly flattened by retailers if desired.
Solomon cites studies that indicated that at the wine's $12/bottle price point, the average consumer purchases 2.6 bottles. It expects the three-count carriers to help push that figure upwards toward a nicely even 3.0.
"We're encouraging carryout by about half a bottle, which is going to impact the retailer's bottom line as well as ours," says Boone. He expects many retailers to display the display-ready case opened, while others will set the carriers aside to permit consumers to mix and match the varietals without deconstructing the impactful display.
Heron also feels that the three-pack is an ideal, ready-to-go club-store format that's quickly drawn interest. "As is, it fits all that the clubs are looking for," he says.
Boone even credits the packaging for a bump in tasting-room sales—an important part of the winery's business.
As in most projects, trial and error played a crucial role. "We went through about five carrier-pack iterations, to make it durable to handle consumer abuse," says Heron. "One of the greatest challenges was designing the carrier in such a way that it would collapse flat, which no one's ever done before with a three-pack carrier."
Bemusing bottle
Packed inside each carrier compartment is a 750-mL bottle of Muse wine. The hock-style, "dead leaf green"-colored glass bottle is provided through Trilogy Packaging (www.trilogyglass.net). Heron describes the previous bottle as a bowling-pin shape in keeping with the Muse theme and with a T-cork closure.
The bottle labels, printed in six colors and foil hot stamping on 60# paper, are produced by Labeltronix (www.labeltronix.com). "Labeltronix was able to bring the crispness of color and everything that we were looking for in the label in record time," says Boone.
The packaging components join together via a major assist by Trilogy. "They've worked very well with us in helping to bring all the pieces of the puzzle together," says Heron. The carriers and cases are shipped flat from PSC to Trilogy, which handles the packaging assembly in which empty bottles are inserted inverted into the carriers inside a bottom-sealed case. The cases, now functioning as reshippers, are sent to the winery where Muse is bottled by a mobile operation of the kind that serves many wineries throughout California. For bottling, the cases are inverted and the bottles drop out through the case's unsealed top flaps. After the bottles are filled, labeled and sealed, they are repacked back into the carriers in the cases and the display-ready case is top glue-sealed and ready for distribution to retailers.
Juggling success
From the outside in, Solomon's Muse presents a layered packaging innovation, a credit to a small, entrepreneurial company's ability to juggle a major, multileveled project of packaging inventiveness. It's a manifestation of the company's mission statement, which reads, "The Solomon Wine Company is dedicated to pioneering new wine concepts delivered to consumers and innovative ways providing a total consumer experience that consistently exceeds their expectations."
And the results have been what Solomon manager have hoped: Heron says Muse is generating interest from the bigger chains in the West and beyond, including chains such as Cost Plus World Markets.
He says that reaction to the wine and its packaging has been "electric" at every level, including crucial buy-in from those he calls "the gatekeepers"—the distributors who determine what products will be sold at retail. "The merits of our packaging and what it can accomplish at retail helps us move 'up the ladder' in terms of consideration," states Heron.
Besides the technical and market breakthroughs the packaging provides, Solomon management also take personal satisfaction in the development. "It's fun to watch the chain buyers' reactions when we show the packaging," says Heron.
"It's like the chef watching the guests enjoy the food. You can see their eyes light up when they see that this is something consumers will enjoy. Those who saw merit in Muse before now see true merit in the packaging as a way to help drive more business.
"This project has been a joy and a blessing," he adds, just the kind of reaction one might expect from a company inspired by the mythological source of inspiration.
Companies in this article