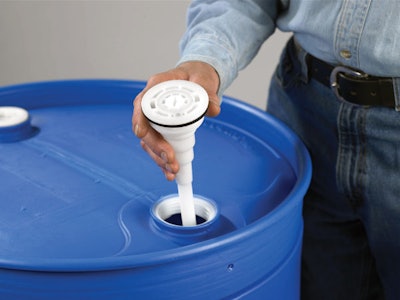 Container Technology, Inc. (www.containertechnology.com), supplies drum containers for the safe transport of hazardous chemicals. The company's containers are used to ship products all over the world. These containers must adhere to U.S. Department of Transportation regulations, as well as United Nations requirements for Hazmat packaging.
Due to recent U.S. OSHA (Occupational Safety & Health Administration) regulations, as well as European Agency for Safety & Health at Work initiatives, there is a growing global trend toward "closed-system" chemical handling—the dispensing of the chemicals from the container to the end-use application in a closed manner. Another trend is a shift toward single-use containers made of recyclable materials.
Historically, the predominant dispensing method in many applications has been through an open system where liquid is manually poured out of the container at the end-use location. This technique has potential dangers and inefficiencies.
Another common dispensing method is a semi-closed system in which a dip-tube draws chemicals from vertically oriented containers, using an attached pump. This method requires that a dip-tube be removed, cleaned, and re-inserted into a new drum each time a new drum is tapped, exposing plant workers to drips, spills, and fumes during product transfer, and also increasing the potential for contamination of the chemical.
Summing up the problem of using a dip-tube multiple times, Gary Clancy, managing director at Container Technology says, "The dip-tubes are not easy to clean, and there may be dangerous chemicals that drip during the cleaning process. The logical solution is to have the dip-tube inside the drum. This would also help customers achieve consistent quality measurements of liquid contents."
Container Technology realized the need to offer a high-integrity, closed-system container and dip-tube for its customers. Notes Clancy, "There is a growing demand for having the dip-tube installed at the initial shipping facility so that when the customer receives it, they just need to fill the drum and ship it, eliminating unnecessary handling and risk of spills or potential contamination of the chemical."
Drumming up a solution
Container Technology had its own proprietary dip-tube system, but was considering upgrade options for improved overall quality control and safety. During the options evaluation period, Container Technology was approached by Colder Products Company (www.colder.com), which was developing what Colder Products considers a revolutionary closed-system dispensing connector called the DrumQuik® PRO.
DrumQuik PRO incorporates a low-cost, recyclable drum insert assembly that integrates a bung closure and a dip-tube into a single unit. Ideal for single-use applications, the drum insert assembly is made of U.S. Food & Drug Administration-approved virgin high-density polyethylene, which is the same material used to produce the drum containers. The dip-tube design enables efficient container emptying, minimizing chemical waste and ensuring easier post-use container cleanup and disposal or reuse.
The DrumQuik PRO system also incorporates a rugged, reusable, quick-disconnect coupler in the dispensing head that is made of FDA-approved virgin polypropylene. Installed at the point-of-use, the coupler features an automatic shut-off valve that prevents chemical media from leaking when disconnected from the drum insert. A built-in vent port allows a pressure-feed connection to speed chemical flow, bar release of harmful chemical vapors, and block ingress of oxygen into the drum, thus preventing oxidation of sensitive liquids.
After reviewing the DrumQuik PRO, Container Technology concluded that it met all its performance, cost, and safety criteria. Clancy notes, "In many instances, we're the package engineering partner for our customers. They want advice on whether it's better to ship their liquid in a conventional drum or whether they should mate the DrumQuik PRO to the drum as a complete package."
Container Technology offers the DrumQuik PRO to its customers as both a stand-alone component or as an integrated package where the DrumQuik PRO is pre-inserted into the drum or other container (for example, an intermediate bulk container).
One trip, no drip
Many chemical marketers using multiple-use dip-tubes have to assign plant workers to ship empty drums back to a warehouse where the dip-tube is removed, cleaned, and re-inserted into another full drum for a new shipment. Moving to a single-use system results in cost savings by eliminating expenses of 1) maintaining a fleet of dedicated dip-tubes and drums; 2) shipping empty drums back to the chemical packaging facility for intensive cleaning before drum/dip-tube reassembly and refilling; and 3) absorbing the wasted chemical product costs and associated environmental impact due to leaks or spills.
Clancy reports, "Our customers are very satisfied and impressed with the DrumQuik PRO system. Today, our customers want to be green. They demand and expect it. And both Container Technology and Colder Products make it a top priority. Our customers appreciate that we are working together to listen and solve their chemical storage, shipping, and handling needs."
Companies in this article