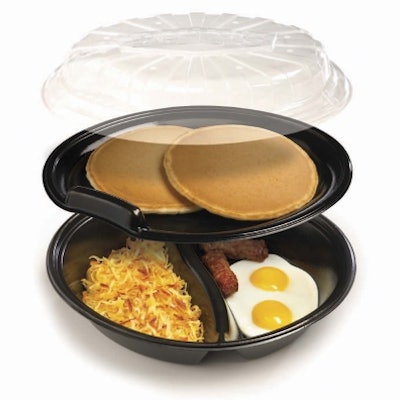 Denny's launched in June a new program B-FST 2GO that offers full, real breakfast take-out in customized Denny's Dome packaging. The integrated, three-component layered 2GO packaging keeps breakfast, as well as other Denny's meals, hot and fresh in a single proprietary container for up to 30 minutes, providing the same table service-quality food for customers on-the-go.
"With Denny's B-FST 2GO in our proprietary Dome, consumers don't have to settle for fast food in clamshells or wrappers anymore," says Mark Chmiel, executive vice president and chief marketing and innovation officer. "We know that Americans love breakfast all day long, but it has not been an easy meal to carry out. Who wants cold eggs, a soggy biscuit in a wrapper, or wilted pancakes from fast-food restaurants? We know that the demand for our signature real fresh breakfast is there. The challenge has been perfecting the portability factor that our competitors haven't been able to do. Our proprietary Dome positions us for a homerun."
The innovative Denny's Dome packaging comprises three components—base, plate, and lid—custom-designed by
Pactiv
(
www.pactiv.com
). Thermoformed of polystyrene, each component is about 12 in. in dia. The gridded base of the Dome is divided into a vented area for crispy foods like hash browns and bacon, and a closed area for moist foods like eggs. On top of the base, an insert plate holds French toast or pancakes in an ideal environment, while sealing in the foods below it. A clear PS lid allows customers to see their order.
Denny's B-FST 2GO is offered in all Denny's restaurants comprising 373 company-owned and 1,177 franchised units.
Companies in this article