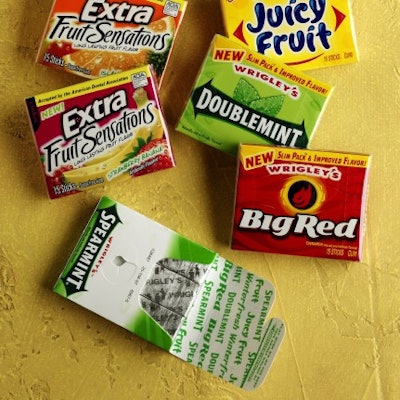 Portability and durability are the key benefits being touted by The Wm. Wrigley Jr. Co., Chicago, for its new 15-stick gum package, the Slim Pack™. Inspired by a consumer preference for products that fit today's on-the-go lifestyle, according to Wrigley's, the compact carton was introduced in May and is being used for the company's five Wrigley's brands, as well as for its new Extra Fruit Sensations line of four fruit-flavored gum varieties.
Explains Jennifer Luth, manager, marketing communications for Wrigley's, "The Slim Pack is a sleek, 15-stick envelope that offers a more durable and portable package that is perfect for a purse or back pocket. The new packaging changes were coupled with significant flavor improvements across both brands." This investment in greater flavor profiles comes at a two-stick premium, however: The Slim Pack replaces Wrigley's former 17-stick PlenTPak.
With the hand feel of a deck of cards, the new paperboard pack (material and supplier are proprietary) measures 3 x 2.5 in. and snugly holds three sets of five gum sticks side-by-side. Carton flaps are sealed at one end, while the other end offers an oversized flap that, once opened, offers easy access to the gum sticks. For carton reclosure, a tab on the carton's oversized flap can be tucked into a die-cut on the back of the box.
Branding emphasized
Package graphics are bright and bold, with the Spearmint, Juicy Fruit, Big Red, Doublemint, and Winterfresh logos and brand colors prominently displayed. The Extra brand packs use fruit illustrations on their front panel to capitalize on the fruit-flavored gum craze—it's the fastest growing segment in the category, according to Luth. The inside of the Wrigley's carton is printed as well, with the logos for all of the gum brands, extending the pack's advertising reach.
According to Luth, the project took two years "from drawing board to distribution, which is not uncommon for a complete structural package change."
Wrigley's reports that in concept testing more than 80% of consumers were pleased with the amount of product offered and considered it a great value for the $1.09/pack cost.
Luth predicts that retailers will appreciate the pack as well, "because it provides a 33% improvement in shelf productivity."
Companies in this article