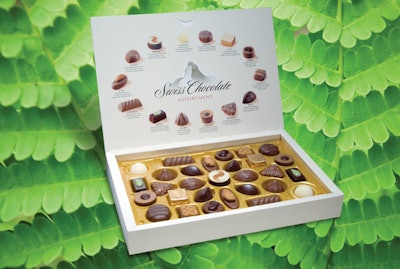 During the 2007 Christmas season, Buchs, Switzerland-based confectioner Chocolat Frey AG, a wholly owned subsidiary of the MIGROS Group, began packaging its chocolate confections in recyclable paperboard cartons that incorporate compostable, biodegradable tray inserts supplied by Plantic Technologies, Ltd. (www.plantic.co.uk). The packaging is a recipient of a 2007 DuPont Award for Packaging Innovation.
The thermoformed tray inserts are made primarily from water-soluble cornstarch. And according to information provided by Chocolat Frey spokesperson Nadine Bachmann, the energy consumption required to manufacture these compostable trays is 50-percent less than that needed for petroleum-based plastic inserts.
The outer, white, satin-varnished paperboard box with gold blocked relief is litho-printed in six colors and supplied by Limmatdruck AG (www.limmatdruck.ch). Labeling on the back of the box informs consumers that the tray insert is compostable and water-soluble. British food marketing giant Marks & Spencer is Chocolat Frey's private-label distributor in the U.K.
Companies in this article