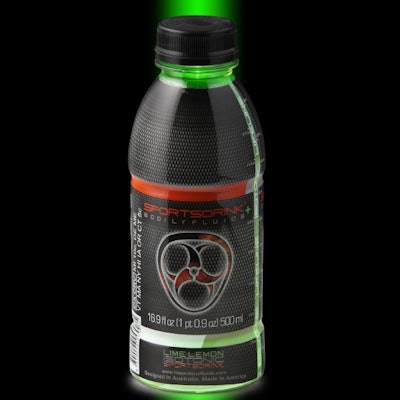 In late February 2008, a Melbourne, Australia-based isotonic beverage company with the whimsical name Hazardous Fluids Pty. Ltd. "soft-launched" to the U.S. market "SportsDrink + Bodily Fluids"—an isotonic supplement drink specifically designed for motor and power sports athletes. Flavored with lime and lemon, the hydration beverage combines vitamins, amino acids, and herbs in a formulation created to enhance athletes' mental acuity and sensory control.
Initially, the product is only available from the company's website. But according to Hazardous Fluids vp Damon Hill, distribution through niche markets such as health and nutrition chain stores is being explored. The retail price has been set at $3.95 per bottle.
To package this new, upscale isotonic beverage product, the company has selected 16.9-oz, dome-shouldered, PET PowerFlex™ bottles with 38-mm finish supplied by
Amcor PET Packaging
(www.amcorpet.com). Because these are stock bottles, Hazardous Fluids was able to launch quickly without incurring any additional tooling costs. The 38-mm polypropylene closures are supplied by
Silgan
(www.silganclosures.com).
Hill says, "When we first looked at bottles, everything we saw had panels and ribs which would not integrate well with a full-body sleeve label. And those bottles didn't look aerodynamic, sleek, and fast—all of the attributes you associate with performance. They just didn't project the image we wanted. Then we came across the Amcor PowerFlex bottle."
Panel-less sidewalls
The Amcor bottle features a patented panel-less, rib-less design and handles hot-fill temperatures (185°F). These bottles absorb vacuum via a specially designed base. A unique, inverted cone-shaped diaphragm within the base draws upward as the liquid cooks and as the vacuum is created. And the smooth, straight-wall bottles easily accommodate shrink-sleeve labels.
The full-body, 9-color flexographically printed, 50-micron PETG shrink sleeve labels are supplied by
Fort Dearborn Co.
(www.fortdearborn.com). Edgy label graphics, designed in-house by Hazardous Fluids, simulate a "titanium" look and incorporate a stylized "biohazard" symbol and a vertical "fill-level" stripe that Hill calls the "isotonic lifeline." The line is marked in ounces and milliliters.
This enables the athlete to monitor how much fluid is consumed. Hill explains, "Every athlete will consume different amounts of our product depending on body mass, the type of sporting event, temperature, and his or her requirements on the day."
-Judy Rice
Companies in this article