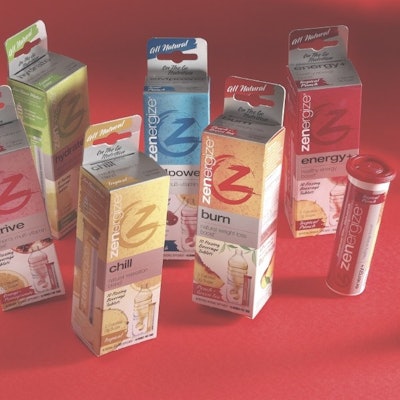 In addition to its shrink-sleeved canister format launched in early 2007 and sold at Costco (see Podcast: 'Zenergized' for Costco) San Francisco, CA-based Bevology also developed a tube format for its effervescent Zenergize Energy+ supplements.
Introduced in September 2007 and sold in cartons, the products retail in seven varieties at Whole Foods, Walgreens, and Vitamin Shoppe stores nationally and in Los Angeles-area Longs and Ralphs stores. Each is priced at $6.99 for one variety of 10 all-natural servings.

"The tubed format gives grocery consumers a more viable option," says Michelle Arnau, Bevology director of marketing. "It's portable and offers several servings."

The 4-in.-tall, 1-in.-dia white polypropylene tubes are supplied through Sanner in Germany, which operates stateside as Sanner of America (www.sanner-usa.com). Sanner also provides the tube's cap, injection-molded of low-density polyethylene. The colorful SBS cartons are sourced from Germany-based Gundlach (www.gundlachverpackung.de). Measuring 1 3/4 in. x 1 1/2 in. x 5 1/4 in., the cartons have a die-cut hang tab for peg display.
Complex cap

Because the tablets are unwrapped, unlike the individually wrapped tablets found in the canister version sold at Costco, a desiccant contained within a chamber in the reclosable cap protects the tablets from air and moisture, keeping them fresh.

For the same reason, the cap is designed with a spiral "shock absorber" to help reduce product damage to the unwrapped tablets (see photo at left). Likewise, the carton is designed with folded inner tabs to help secure the tube.

The packaging was determined through much research, according to Arnau, starting with the basic product premise.

"Our whole proposition is really the tablet," Arnau explains. "We talked to consumers who buy in smaller quantities than our 40-count canister sold at Costco."

That feedback led Bevology to the tube, Arnau says, which was a packaging format inspired by AirBorne, a tubed cough and cold remedy that has been on the market about six years. Its success helped Bevology decide that consumers are open to the idea of a tubed effervescent product.

"Our tube enables consumers to take 10 drink portions with them," says Arnau. "They can put it in their purse, and have it available in the car, at their desk, or at the gym."

Consistent by design

The tube's label also carries graphic accents picked up from the carton, which in turn picks up accents from the canister design.

"It's a similar look," Arnau says. "We try to keep it consistent so that if you bought Energy Plus in Costco, you'd recognize at the grocery that it was the same product in just a different pack size."

Arnau says determining the proper carton size was a challenge. "We didn't want to put the tubes in too large of a carton, because then people assume that it's a larger tube and is less portable. We wanted to keep the box relatively small to convey portability."

That also downsized—and complicated—the design work done by The Engine Room (www.theengineroom.cc), compared to the large canister. That included the fact, according to Arnau, that many people assume that a tubed product is a candy or an edible product, rather than an effervescent tablet in a tube.

"In a small space, we had to convey what the product is about," Arnau says. "The design has to educate not only on what the benefits are and why this is a great product, but what it is and how you use it. The Engine Room did a great job with a small box."

Arnau says the tube has proven a successful launch in just a few months: "It has definitely built up a lot of momentum, and has become a very significant business."

Companies in this article