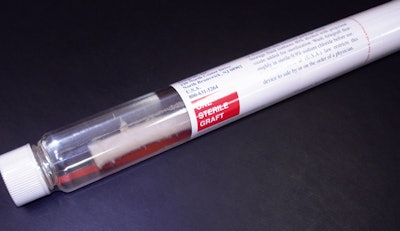 Since incorporating in 1993, North Brunswick, NJ-based Artegraft Inc. has used glass tubes to ship its U.S. Food and Drug Administration-approved Class III natural collagen vascular grafts to hospitals, clinics, or hospital distributors. But occasional breakage during distribution and the desire to trim costs led the company to make a change this year to Eastman Chemical's (www.eastman.com/medical) Eastar Copolyester MB002 resin. Eastman worked with O.Berk Co. (www.oberk.com) to make the conversion a successful one for Artegraft.
"The packaging expertise of O.Berk, coupled with the performance of Eastar Copolyester MB002, created the best possible solution for our conversion from glass to plastic," says Laurence Potter, the company's vice president of scientific affairs. "Now we have a more robust, stable, and safer package that does not compromise the surgical readiness or performance of our grafts." He adds, "Secondary packaging costs can be decreased as well as transport, warehousing, and other expenses as a result of the switch to plastic."
Besides the change in material, the new Artegraft tube incorporates an important functional change in its shape. Rather than stay with the cylindrical glass tube, the company opted to have the plastic tube molded (see story on page 25) with a flat side. "The glass version looked like a large test tube," says Potter. "It was round, and if you put it on a table, it could roll off. So we designed it with a flat side. It provides another level of security from incurring damage once you lay it down within the operating suite."
The diameter of the tube's neck opening was increased for ease of use. A peel-away, heat-shrink, tamper-evident seal was added. "Now we have a more robust, stable, and safer package that does not compromise the surgical readiness or performance of our grafts," says Potter.
Artegraft is not only the name of the company, but also the name of the company's medical device, described on its Web site as "a biological fibrous matrix processed to enhance long-term patency [keeping the artery open] and provide a tightly woven, cross-linked conduit that is flexible and compliant." The company says Artegraft was the first vascular graft approved by the FDA in 1970.
Artegraft "is a bovine collagen graft, made from a steer's carotid artery," says Potter. "We process the arteries through a variety of physical and chemical steps." The company purchases the arteries from qualified processing plants, then processes them through a series of very specific physical and chemical steps. After chemical sterilization and packaging, the grafts are shipped to either medical sales distributors or directly to hospitals for surgical implantation in humans.
Potter says the vast majority of the grafts are used for AV (arterial venous) access in hemodialysis patients. After many needle sticks, a patient's own blood vessels may no longer function properly. "When that happens, " he explains, "a surgeon can insert [the Artegraft] into the specific physiological area that they want to use. This replacement graft can last for years, with proper care."
Manual packaging process
These bovine collagen arteries are shipped to Artegraft refrigerated and cryogenically packed. Fat and unwanted connective tissue are trimmed away, and the product is chemically sterilized by a liquid solution that keeps the material hydrated until it's opened in an operating room. The packaging process is conducted in an environmentally controlled area. Potter notes that it is not an aseptic process. Instead, the company uses a chemical sterilant, propylene oxide, within a 50/50 solution of ethyl alcohol and purified water.
Before each Artegraft is placed in a tube, a trained operator places an extruded polypropylene rod, from a local vendor, into the lumen of the artery to keep it straight and stabilized. Potter explains that the process would be similar to placing a straw over a thin plastic mandrel. Next, the artery with the rod is placed into the 21"-long Eastar Copolyester MB002 tube, which is compatible with the same sterility and validation processes Artegraft used with its glass tubes. This was an important reason the company opted for the Eastman material for the tube.
Decision-making process
"There are plenty of packaging options to consider," says Potter of the tube selection. Artegraft worked with O.Berk, which helped the company identify the appropriate material. "We were looking for something that would be injection/blow-moldable and yet offer us a high degree of resistance to the ethyl alcohol solution we were using for product hydration and sterilization," Potter says. "The alcohol can pull the chemicals out of the plastic and change the tube's consistency. It can actually extract chemicals that may be deleterious to the product such as heavy metals or other materials. So a lot of testing was done to make sure that none of that occurred. Eastman had information of note, and Artegraft did a significant amount of internal testing to verify the information, all of which went to the FDA."
Potter says that as a human-implantable device, the Artegraft is considered by FDA to be a Class III device, the agency's most closely regulated class for devices. "We submitted the new primary package design to the FDA in September 2006, and we received the approval in February 2007," he notes.
Once the artery with the rod is manually placed in the tube, operators apply a 28-mm urea closure from National Novelty. Operators also apply a pressure-sensitive label to each tube. Preprinted labels from local suppliers include information on size and lot number and any warnings, etc. Additional information is laser-printed onto the labels by what Potter describes as "general in-house printers."
Potter says Artegraft's can be shipped in quantities from one to six, usually via UPS. Each "unit" has a list price of $800 to $1,000, and has a three-year shelf life at ambient temperature. An expiration date is printed on the label.
Multiple benefits
Potter says customer response to the tube change has been positive to date, although he notes it's only been in the market a short time. The benefits of Artegraft Inc.'s conversion to the Eastar Copolyester MB002 resin justify the change. First, there are economic "savings in the 50-percent range" compared to the glass tubes, Potter estimates. He says the plastic may be slightly less expensive than glass in shipping the vascular grafts as well, but that wasn't the decision-making rationale.
"While [cost savings are] a benefit, we did not want to incur breakage," he says. "It was an occasional problem and it was an important rationale at the time Artegraft was considering making this change."
Potter credits all of the packaging suppliers as instrumental in the Artegraft project. "O.Berk was instrumental in facilitating the development of early PET tube design concepts, bringing expert material, design, tool, and manufacturing companies into the project. David Gotler, O.Berk's director of technical services, introduced to Artegraft Inc., the best resources available to drive the graft package from concept into prototyping and through to manufacture.
Without the continued persistence and guidance from David and the professional staff at O.Berk, the Artegraft PET culture tube would definitely not be the on-the-shelf success as we know today. We are convinced that O.Berk assembled the only group capable of getting this difficult, unique design to meet our criteria and goals."

Companies in this article