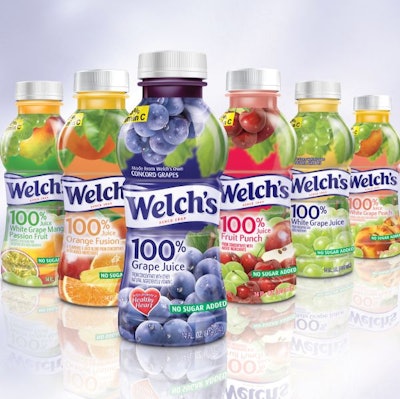 Welch's, Concord, MA, has launched six varieties of its 100% juice in a custom, 14-oz PowerFlex™ PET bottle from
Amcor PET Packaging
(www.amcor.com). The proprietary design is Welch's first panel-less, shelf-stable bottle and represents the first commercial use of a custom PowerFlex container.
The new package has a gently contoured and ergonomic shape and uses a full-body shrink label with colorful graphics that make the fruit images appear ready to pluck. "We were looking for a bottle that was upscale and would attract more consumers to the premium, 100% juice line," explains Welch's senior engineer Stratos Dimas. "It had to be very smooth with no bumps so that it could accommodate a full-body label. It also had to be hot-fillable, attractive, and easy to hold."
Traditional hot-fill bottles, designed to withstand temperatures of 185° F, employ ribs and panels to absorb vacuum and minimize distortion during the cooling process. These ribs create a surface with "hills and valleys," which would not have been conducive to the sleek, ergonomic container Welch's desired for its juice line, Amcor says.
Patented PowerFlex technology comprises a structural design that not only eliminates the panels, but also provides a large, completely smooth label panel, free of ribbing, that can accommodate a full-body label.
Secret is diaphragm in base
Amcor says that its technical staff, through a combination of design and manufacturing innovations, created the PowerFlex to absorb vacuum via a specially designed base. A unique diaphragm within the base draws upward as the liquid cools. It has the geometric characteristics to enable the inverted, cone-shaped diaphragm to deflect upward as the vacuum is created. Stock versions of the bottle include a 16-oz longneck design and a 16.9-oz dome-shouldered alternative.
Before Welch's settled on the final design, Amcor developed several design iterations for the company to consider. Welch's goal was to develop a new single-serving size that was also narrower, slimmer, and taller looking than the other PET and glass sizes in its line.
"There is a strong preference for bottles that are tall and slim. However, because the functionality of the bottle is in the base, we were aware that there was a limit to how narrow we could go and still keep the desired performance properties," explains Dimas. "Most of our effort was spent on trying to find the sweet spot. We wanted the smallest diameter possible that would still give us the best profile and optimal functionality."
Simulation and models
Amcor's engineers worked closely with Welch's marketing department to identify the bottle's key characteristics. Explains Chris Labombarbe, senior engineering manager, Amcor, "We used 'finite element analysis' simulation to create models that incorporated the key design criteria. We are able to do this without cutting the metal molds. This reduced iterations and development costs, while it increased speed to market.
"Our PowerFlex technology lends itself to design freedom. We were able to quickly figure out where we needed to place the functional elements without sacrificing any of the package elegance."
The end result is an attractive, ergonomic bottle that can easily be grasped at the waist. Additionally, the curved shoulder gives Welch's a proportionately bigger surface area for billboard graphics.
Graphics from scratch
"We started from scratch on the graphics for this new size," recalls Dimas. "One of our goals was to make the brand name and the 100% juice reference the label's focal points. We also did consumer research prior to launching to make sure we achieved that," says Dimas.
The geometry of the straight-wall design also gives the PowerFlex bottle great top-load characteristics, notes Amcor. The straight wall has no points of stress concentration, which removes the potential of bending. And, most PowerFlex conversions can be run easily on existing glass-bottle filling lines with little or no equipment modification.
Welch's 14-oz size is available in six 100% juice varieties: White Grape Mango Passion Fruit, Orange Fusion, Grape, Fruit Punch, White Grape, and White Grape Peach. The bottle is currently available as single serving in convenience stores and in multipacks for clubstores.
"The bottle has been very well accepted by consumers," Dimas concludes. "The shape and graphics help the brand stand out on the crowded shelf. We also plan on expanding the flavors and distribution in the near future."
–Anne Marie Mohan
Companies in this article