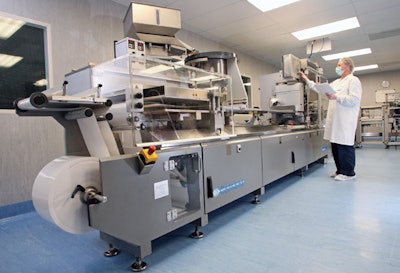 Nowhere in packaging are flexibility and fast changeover more necessary than in the contract packaging arena, where multiple customers and their many SKUs are a fact of life. That's why ease of changeover was a key machine characteristic sought by Brecon Pharmaceuticals recently when it came time to install a new line for blister packing and cartoning of tablets. This fast-growing contract packager, acquired last year by Amerisource Bergen, is located in the UK near the town of Brecon, Wales.
At the heart of Brecon's new line are a Noack 623 blister packer and a Promatic 4200 cartoner, both supplied by Romaco. Changeover from Product A to Product B takes about two hours rather than six or seven that might be required on more conventional lines.
The blister machine has an extra long product feeding area between blister forming and blister sealing that lets Brecon mount as many as five automatic feeders over it. That means a single blister pack can hold five different products. Brecon operations manager Andrew Billington explains why such variety is required.
"Sometimes with a hormone replacement or a birth control product, for example, more than one formula is needed as the monthly cycle progresses. Also, with some of the more sophisticated drugs coming out, there may be an introductory dose as well as a 'regular' dose—titration packs, if you will, which allow for escalating doses in a single convenient pack. We can produce these by positioning multiple feeders over the long bed.
"Clinical trial work that we do," he continues, "is another place where multiple feeders are required. A drug maker may want to study the effect of a combination of drugs, and again, if you can combine those drugs in a single pack, it's a much better solution."
Downstream from the blister packer, the Romaco cartoner also has a central feature that contributes to the kind of fast changeover that a contract packager desires: balcony-style design. Packaging materials and product handling are more or less cantilevered away from the mechanical components of the machine so that if anything at all should drop, it basically falls straight through to the floor where it can be easily swept up. According to Brecon business manager Steve Kemp, this is a huge help where Good Manufacturing Practices are concerned.
"Product inevitably drops somewhere you don't intend it to go," says Kemp. "On the older blister-pack machines, when it dropped it would lodge in the guts of the machinery, so during a clean-down between runs, it required considerable time and effort to complete the task. This balcony-style design eliminates that problem. It's such an improvement from a GMP standpoint, and in turn that leads to much quicker changeovers."
Front end
At the beginning of the line is a tablet hopper that feeds the "waterfall-style" feeder most commonly used on the line. Tablets drop neatly into the freshly formed blister cavities, which can be arranged in a wide variety of patterns depending on what tooling is used.
When the tooling needs to be changed, it's essentially a tool-free operation. Quick-release levers and knobs are used for changes that are mechanical in nature. Other settings—depth of draw, pattern of blister cavities to be formed, perforation pattern—are held in the machine's memory and selected by the operator at a touchscreen menu.
Worth noting, too, is that Brecon does both thermoforming of polymer-based substrates as well as cold-forming of foil on most of its blister-pack machines, including the Noack 623 that's on the new line. Proprietary cold-form tooling—developed by Brecon with help from Electro-Mec—plays an important role, says Billington.
"Cold-form tooling is usually much more expensive than thermoforming tooling because there is a mechanical system in the cold-form tool that permits it to strech the foil without causing breakage or pinholing," says Billington. "But with Electro-Mec we came up with a way around that tooling upcharge, and we gain an additional benefit because it takes very little time to make the change from thermoform to cold-form tooling, or vice versa."
Regardless of whether the line is running cold-form foil or thermoformable plastic substrates, once tablets are in their blister cavities, a rotary brush ensures they're lying flat. If for any reason they're not, a "high-product" sensor detects this condition and the machine comes to a halt until corrective action can be taken.
Laser alignment
The Noack 623 also has a laser pocket alignment feature that ensures consistent positioning of pockets during sealing, perforation, and die-cutting of individual blister-packs from the continuous web. A look at the sealing station illustrates how this works.
If the formed blister pockets are not in perfect alignment with the lidding material that is about to be heat-sealed over the pockets, a laser vision system detects this and signals the Romaco machine's servo-controlled motors to adjust the tooling accordingly. A similar servo-controlled, automatic adjustment is repeated, if need be, at the perforation and die-cutting stations.
According to Romaco's David Dixon, servo controls from Elau play a key role in making the laser alignment feasible. The downstream cartoner, he adds, also relies on Elau servo controls.
On-line printing of company name, logo, date/lot code info, and other information is performed by a Hapa flexographic printer that applies UV-curable ink. The printing unit is mounted ahead of the heat-sealing station. Once heat-sealing of lidding material is complete, the material is cooled and perforated (if called for). Then cutting tools separate individual blister-packs and they drop out onto a conveyor that takes them to the cartoner.
Included in the cartoner is automatic insertion of informational leaflets. A continuous-motion machine, it can cycle at speeds to 200 cartons/min. The machine also uses suction in two positions on the rotary-style head that picks carton blanks from the magazine. This pulls the carton blank open with more authority, especially if the complexity of the carton design makes it inherently difficult to open.
Machine vision
On board both the blister-pack machine and the cartoner are machine vision systems from Laetus. The Polyphem wt40 tablet inspector on the blister-pack machine checks for missing or damaged tablets as well as looking for tablets that are incorrect in shape or color. The image captured by camera is analyzed by high-speed electronics and evaluated by a PC-based system that sends a reject signal for any blister-packs that are faulty.
Similar technology is deployed by the Argus wt10 that is on the downstream cartoner. Essentially it's an intelligent camera looking for the preprinted bar code on leaflets and cartons to prevent any possibility of an incorrect combination of leaflet, carton, and product.
"These machine vision systems have grown incrementally easier to set up, largely due to changes that are electrical in nature," says Billington. He also observes that such equipment is generally "more robust" than it once was.
Another quality-control inspection device is the OCS checkweigher that sits just downstream from the cartoner. If a carton doesn't hold the correct number of tablets or leaflets, the checkweigher knows it and sends a reject signal for that carton. One piece of equipment that's included in many of Brecon's other lines but missing from this new line is a shrink bundler for collation and unitization of multiple cartons.
"Products we run on this line don't require it," says Billington. "But it could be added easily enough, and being in the contract packaging business, it probably will be added at some point."
Case packing of cartons is currently done by hand. But a case erector from Soco System facilitates the process.
According to Kemp, the versatility and capacity of the new line lets Brecon consolidate in one line the contract packaging work it used to have spread out on two or three lines. He also predicts a bright future for Brecon Pharmaceuticals and other firms focused on contract packaging of drugs.
"The big pharmaceutical companies must spend so much money on developing new drugs, they're finding it increasingly attractive to outsource packaging," says Kemp. He also notes a change in attitude. "Ten years ago they typically turned to contract packagers only when they didn't have sufficient capacity internally. Lately we've seen a move toward what they call 'strategic outsourcing.' They choose strategically not to invest in the packaging equipment and personnel necessary to launch a new product. If it succeeds, then they may take it in-house and look for a legacy drug that is at the end of its lifecycle and have that handled by a contract packager as demand for it diminishes."
By maintaining packaging assets capable of absorbing these ebbs and flows in product lifecycle, Kemp paves the way for additional growth at Brecon Pharmaceuticals.
RELATED ARTICLES: For more, see packworld.com/pharma
VIDEO: To view the machinery described in this story, see packworld.com/view-24122
PODCAST: Listen to an interview with Steve Kemp at packworld.com/view-23701
Companies in this article
Videos from Universal Labeling Systems, Inc.