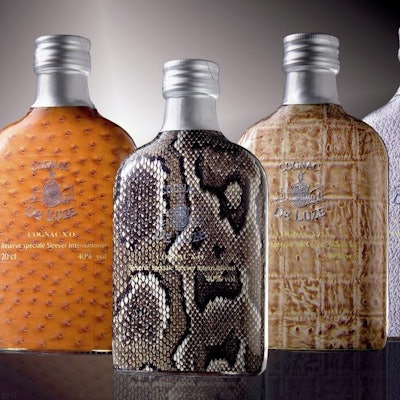 Providing a sensory element to increase brand differentiation and add a touch of luxury to traditionally packaged products, Sleever Intl. (www.sleever.com) has launched the Skinsleever® line of faux leather-relief shrink labels.

The label stock, said by the converter to "recreate the incredible feel of six exceptional leather finishes," including lizard, python, ostrich, and others, in a palette of modern colors, made its commercial debut on a limited series of leather-encased XO Cognac flasks held in a rigid plastic gift set from Cognac De Luze.

A second application, from Icelandic Glacial, comprises a collectible luxury mineral water adorned with a small brown sheath and leather lacing.
Further details on either application were unavailable.

Sleever notes that the new label technology was in development for four years and is founded on a combination of three new technologies. The first technology, from Sleever Technologies, is a new generation of mono-oriented, elastomer-based film that remembers its shape after heat shrinking. This makes it possible to create relief effects or three-dimensional patterns on the shrink-sleeve labels.
The second technology is a proprietary, new helio-engraving printing technique from Sleever Labels that uses up to nine colors, along with "highly accurate positioning" (0.3 mm) to reproduce the subtle effects of luxury leathers.
The third component is the automated implementation on Powersleeve Evolution 3 and infrared shrink Powerskinner® machines, designed by Sleever Machines, which makes it possible to reach speeds of between 300 and 900 bottles/minute, the company says.
-Anne Marie Mohan


Companies in this article