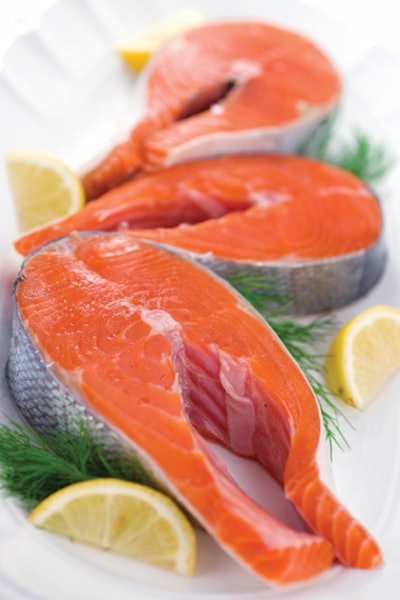 Tired of waiting for the U.S. Food and Drug Administration to restrict use of modified atmosphere packaging (MAP) with fresh meat, key congressmen have started a drive to make FDA action moot.
Already major chain Safeway, Inc., has agreed to stop selling fresh meat packaged with carbon monoxide, which Reps. John Dingell (D-MI) and Bart Stupak (D-MI), top Democrats on the House Energy & Commerce Committee, claim masks food spoilage. The two legislators wrote to a number of meat retailers and marketers at the end of June asking them to justify their use of MAP.
Besides the letter writing campaign, Stupak also intends to introduce legislation that would ban use of carbon monoxide in packaging for a wide range of food products. "Approximately 20 percent of the recent seafood treated with carbon monoxide was contaminated or rotten, but looked 'good' with carbon monoxide treatment," he explains.
Safeway bails on CO
Safeway threw in the towel even before Stupak tossed a bill in the congressional hopper. In a letter to Dingell and Stupak on July 16, Michael McGinnis, senior vice president for meat & seafood at Safeway, wrote that only a "limited selection of fresh meat products in our stores are supplied to us utilizing carbon monoxide modified atmospheric packaging."
He explained that Safeway had undertaken that limited initiative in the name of food safety, because MAP limits additional handling at critical points of contact. McGinnis explained Safeway's decision to terminate that limited effort as necessary to counter questions being asked by consumers, alerted to the issue by press reports about Dingell's and Stupak's original letter. Those consumers, McGinnis added, "may be confused."
Dingell and Stupak also sent letters to Tyson Foods, Inc., Pactiv Corp., and Precept Foods LLC (Hormel Foods Corp./Cargill). Spokesmen for all those companies failed to reply to phone calls and e-mails asking for their response to the Dingell/Stupak letter.
The two Democrats originally raised this issue a year ago, when Republicans were in control of Congress. In letters dated February 9, 2006, and March 30, 2006, they asked the FDA questions about the agency's allowance of low-oxygen MAP under the agency's Generally Recognized As Safe (GRAS) program.
FDA's inaction
GRAS products are approved (in effect, the FDA simply does not object to a GRAS notification, thus a product is approved) without pre-market review because, by FDA standards, they have proven to be sufficiently safe based on the ingredients being used in other FDA-approved food contact substances. The FDA did not object to the first GRAS notification in 2001 by Pactiv Corp. The agency subsequently did not object to Precept Foods' GRAS application in 2004.
That set the stage for Kalsec Inc. to file a Citizen Petition with the FDA in November 2005, asking the agency to stop Pactiv and Precept from using MAP packaging. Kalsec sells spices and herbs, including a specific line for oxidation management, many of which purportedly extend the shelf life of food products, including fresh meat.
In its 2005 petition, Kalsec argued that a ban on MAP was necessary "to prevent serious food safety harms to the public, and preserve consumer confidence in the safety and integrity of the U.S. meat supply. The use of carbon monoxide gas in fresh meat packaging produces an artificially intense, persistent red color in meat that can simulate the look of fresh meat and mask the natural signs of aging and spoilage that consumers depend upon in making safe food choices, including browning and tell-tale odors."
Color additive?
Kalsec argued that carbon monoxide is a color additive, and products using it cannot be approved via the GRAS process. Precept, on the other hand, retorted that carbon monoxide simply "fixed" the color of the meat, and was therefore not a color additive.
Pactiv went further and cited the FDA's approval of beta carotene as a color additive affirmed as GRAS. Moreover, Pactiv argued that its packaging system was different than Precept's, and that it does not mask spoilage.
The FDA never answered Kalsec's petition, which, from a political standpoint, was a major mistake. That is because Kalsec is headquartered in Kalamazoo, MI. That happens to be the congressional district of Rep. Fred Upton (R), another member of the House Energy & Commerce Committee.
Don Berdahl, vice president, lab director, Kalsec, says Kalsec contacted Upton and complained about the FDA's foot-dragging, and its refusal to reverse its stance on the Pactiv and Precept GRAS notifications. Berdahl says Kalsec did not contact Dingell or Stupak, but somehow the company's concerns got transmitted to the two senior Democrats, who contacted the FDA in 2006.
They asked the agency to remove products treated with carbon monoxide from markets until the safety of these products could be assessed. But as the Democrats were then in the minority in Congress, Dingell and Stupak had little leverage.
Change in power
That immediately changed in 2007. Now Dingell chairs the Energy & Commerce Committee, which has authority over food safety issues and the FDA. Stupak chairs the oversight and investigations subcommittee. Not only do the two congressmen now have the stature to significantly pressure the FDA, they also have new public concerns about food safety—stemming from the ecoli in lettuce incident of last fall to the contaminated Chinese imported food of very recently—on their side.
"We refuse to let the FDA continue stonewalling consumers and Congress about this dangerous deception," says Stupak. "We are particularly concerned about the FDA's decision in light of our discovery of carbon monoxide treated fish from China and other Asian countries that are regularly rejected for spoilage. The American people deserve to know whether FDA was aware of the apparent masking of spoiled fish with carbon monoxide when it determined that its use was 'Generally Recognized As Safe.'"
Companies in this article