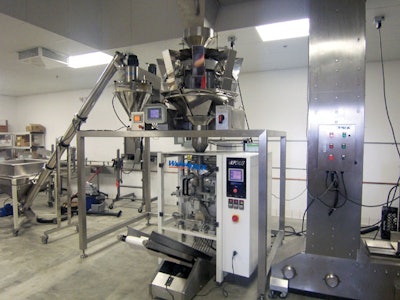 Greater speed, high reliability, and improved accuracy were the key goals when Propack Inc. of Sun Valley, CA, upgraded its semi-automatic packaging system this summer. Not only did this packager of Mediterranean specialties such as semolina, yellow corn meal, lentil, and garbanzo beans meet all three goals, but it also did so in a uniquely compact and integrated way.
WeighPack Systems Inc. (www.weighpack.com) did the heavy lifting on the supplier side of the installation, which incorporates five WeighPack machines all tied together: an eight-head CombiScale combination scale, a Star Auger filler, an XPdius 800 vertical form/fill/seal bagger, a bucket conveyor, and a screw conveyor. All five are tightly clustered around a single frame, on which sit both the auger filler and the combination scale. This clever arrangement not only saves valuable floor space, but it also makes it possible for Propack to use the same bagger for both fillers.
"The bagger sits beneath the two fillers, and we move the bagger from one filler to the other about once a week," says Propack vice president Stephan Altibarmakian. "The bagger is on wheels, so it's easy to do."
Bags produced by Propack all weigh 1.5 lb and are sent to wholesalers who supply retailers that include Mediterranean-style foods in their product mix.
Powder or beans
Propack uses the auger filler for its extensive line of powdery or granular products. Operators pour product into a hopper at floor level, and the screw conveyor takes it up to an overhead hopper above the auger filler itself.
A similar approach is used in getting beans to the combination scale. Except in this case, a bucket conveyor is the means of conveying product from floor level to the hopper above the combination scale. Beans then drop into the weigh buckets of the scale so that the combination of buckets whose combined contents is closest to 1.5 lb can be released down the fill tube of the bagger.
The one piece of equipment on the new line that isn't made by WeighPack is a thermal-transfer coder from Markem (www.markem.com). It imprints product name, nutrition facts, and a UPC code on the linear low-density film that runs on the machine. According to Altibarmakian, the new equipment produces 1.5-lb bags at 35/min. That's a considerable improvement over the rate of 12 bags/min that was the limit before the installation. Meanwhile, accuracy has gone from 0.05 g/bag to 0.01 g/bag. Case erecting and packing are still done manually, but Altibarmakian says he'll be scouting the aisles of Pack Expo Las Vegas to bring automatic case packing into the line.
With the equipment upgrade in place, Propack can now expand the number of wholesalers to whom it ships its products. The glistening new equipment even serves a marketing function, says Altibarmakian. "We can now show potential customers a much more impressive operation," he says.
Companies in this article