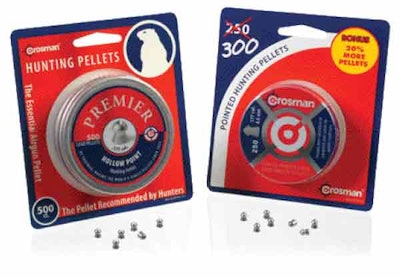 Crosman Corp., East Bloomfield, NY, is an international designer and manufacturer of air guns, pellet ammunition, and paint balls marketed internationally through retailers and internet buying venues.
The company had been packaging its pellet ammo in small tin canisters overpacked in blister packs mounted on paperboard cards that were not sufficiently tamper-resistant. These blister packs were possible to open in the store by some customers. Consequently, some of Crosman's retailer clients were asking for a more secure outer packaging option.
Examining options
Crosman needed a new packaging alternative that would meet specific criteria:
• make the pellets more secure,
• provide packaging cost and manufacturing efficiencies,
• enable multi-color graphics and labeling space for consumer safety information in both English and French (for certain Canadian markets),
• be environmentally friendly in terms of material use and waste reductions, and
• be compatible with Crosman's existing high-speed packaging/sealing equipment.
Bob Hampton, vp of marketing for Crosman, notes, "Among the options reviewed was a plastic clamshell. But it didn't meet our environmental or packaging line requirements. It also was costlier than other options. For example, with the clamshell, we would have had to include extra print materials with marketing and consumer safety information. Because there is a big push by retailers to reduce packaging waste, we decided against this option."
After carefully reviewing options, the company recently switched retail packaging for two of its air gun pellet products to BlisterGuard® security packages from Colbert Packaging Corp. (www.colbertpkg.com).
Hampton says, "We looked at blister options, but none equaled the tear and puncture resistance of the BlisterGuard package. With this package, we realized that we could have the enhanced tamper-resistance we wanted and an exceptional printing surface as well. BlisterGuard provides excellent security because it has two layers of tamper-resistant paperboard which sandwich the plastic blister. It also is less costly than the plastic clamshell alternative. In addition, the Colbert package is made primarily from recyclable paperboard—an attribute preferred by retailers seeking environmental sustainability and waste reduction. Finally, this option required very little modification of our package sealing operations."
Improved packaging approach
The two pellet products chosen for the new security packaging were Crosman Pointed Hunting Pellets and Premier Hollow Point Hunting Pellets. The pointed pellets are packed in 25⁄8"-round tins containing 300 lead pellets. The hollow point pellets are packed in 3"-round tins that hold 500 pellets.
Information about the tin canister supplier and canister printing process were undisclosed. But the tins bear limited product information, including product name, number of pellets, and pellet caliber. The blister cards include additional, more detailed product and marketing information.
The paper-based component of the BlisterGuard package is Everest® Safe-Pak blister board from International Paper Co. (www.internationalpaper.com). It is a heat-sealable, tear-resistant bleached paperboard, which is then laminated to a multi-layer, high-strength, highly oriented, bias-cut, cross-laminated high-density polyethylene film from Valeron (www.valeron.com). Laminated together, these components produce a virtually tear-proof, pilfer-proof package, and one that's well-suited for hanger-hole display.
The blister windows (structure not disclosed) are supplied through packaging distributor Industrial Packaging Supply (www.industrialpackaging.com) and are manufactured by Andex (www.andex.net).
In-plant operation
At the East Bloomfield facility, Crosman uses an 8-station rotary-table blister sealing machine. Wes Bailey, director-supply chain, reports, "This is integrated into our custom automatic pellet filling line which fills the pellets into the tins and applies the tops to the tins. As the filled pellet tins exit the filling line, they are manually loaded into the first station of the automatic 8-station rotary sealer supplied by Starview Packaging Machinery, Inc. (www.starview.net)."
There the offset-printed 43⁄4"-wide by 51⁄4"-deep BlisterGuard cards and plastic blisters are heat-sealed around the package perimeter and around the flange. Completed units then are packed six units per master carton and are placed on pallets, ready for shipment.
Bob Hampton says, "While the new package has only been in the marketplace since April 2007, initial feedback from our retailers has been extremely positive."
Companies in this article