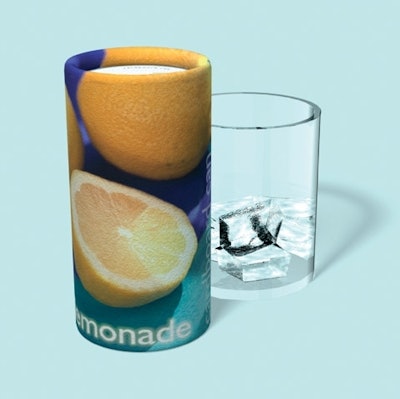 What in the name of sustainability is a "cardboard can" that's under development for carbonated soft drinks (CSDs)? Even the developer admits the idea may be ahead of its time.
According to Alan Hart, VP consumer products-USA of
Sagentia Ltd.
(www.sagentia.com), the company is more a "do-tank" than think-tank. And while it has been thinking for some time about the concept of a "cardboard can," now they are trying to do something about it.
"We think there is a lot of potential in the intellectual property on this idea, but right now the biggest protection we have is secrecy," says Hart. That said, he still discloses enough.
The concept is this: A cardboard can that comprises a bag-lined paper-based canister. Possible formats for the can portion, which provides structural integrity, include a spiral-wound paperboard can.
Hart and his team are looking at various structures to be used to produce the bag liner, possibly a metallized polymer or aluminum-oxide coated substrate. The bag requires barrier properties to retain carbonation. The "generic" structure can be seen in the graphic below.
Sagentia, which operates U.S. offices in Baltimore, has been kicking the idea around since 1998, Hart says. It got kicked into higher gear in 2005 as interest in sustainable packaging has increased.
Like a tiny bag-lined drum
It's akin to a miniature fiber drum with bag liner, except the cardboard can's liner is more functionally challenging. That's because Sagentia proposes that the ends also be made of paperboard. That includes the top end to which the open end of the bag will be sealed, rather than having the bag film sealed to itself. The bag will be affixed to the bottom end, but sealed to the top end to contain the carbonated beverage. The requirement is for 12 weeks' shelf life at 4 bar (or about 58 psi), according to Hart.
That seems to be asking a lot of the top seal in the opinion of this editor, making it much more of a technical challenge than if it used plastic ends. However, Hart insists that the idea is to maintain the can's sustainable aspect as much as possible and keep the plastic out—except as the bag film.
"As soon you stray into plastic liners or screw caps, you're not being true to the original concept," responds Hart. Thus, only a fraction of the can's structure by weight—the bag film—comprises plastic. Hart reports that Sagentia has 28 potential options for sealing.
Hart emphasizes that the bag may be affixed to the can via spot glue to make removing the bag easy to make the can itself convenient to recycle.
Economics and graphics
Sagentia estimates the cardboard can costs at 18 cents apiece, at least twice the cost of an aluminum can, according to Hart. However, he believes as aluminum prices continue to climb with energy and electricity costs (aluminum is produced using electrolysis), the cardboard can becomes more competitive.
Graphics options are strong—anything that permits print on a paper surface, Hart adds, and on the entire surface. It would also provide a major differentiator on-shelf for a bold marketer, he says.
"One of the leading retailers in the United Kingdom told me that if we could supply product in this package, they would buy it," says Hart. "Unfortunately, at the present time, we don't have that capability in place."
Sagentia is looking for a partner on the converting side, such as a cardboard tube manufacturer. He reports that converters in Scandinavia and the United States have expressed interest.
The cardboard can is two years from commercialization, and that's optimistic, Hart admits. He is seeking converters or others interested in helping Sagentia to make the concept a reality. "We're always interested in meeting new partners and talking about it," he concludes.
For a link to an eight-minute Podcast of our interview with Sagentia's Alan Hart with additional details about the cardboard can,
click here
.
Companies in this article