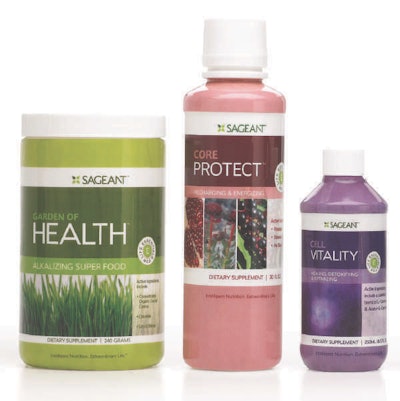 When Sageant, LLC, Bozeman, MT, a health supplement and vitamin producer, wanted to rebrand and refresh its product image, the company sought the assistant of branding and design agency Maddocks & Co. (www.maddocks.com).

In the process of designing new labels and recommending PVC shrink-sleeve label materials for the various liquid and solid Sageant products in assorted container sizes and shapes, Maddocks also enlisted the digital printing expertise of CL&D Digital (www.clddigital.com) to execute the shrink-sleeve label printing. The 2-mil PVC shrink-sleeve label material, manufactured by Klöckner Pentaplast (www.kpfilms.com), is digitally printed by CL&D using a four-color process.

Working in cooperation, Maddocks and Sageant sent the printer samples of the vitamin containers, showing the size of the sleeve, seam location, and copy area, and asked CL&D to create the die-lines. Sageant then selected a clear glossy sleeve label format (a matte-finish option also was offered by CL&D).

After that, Maddocks dropped in the artwork and sent the label design back to the digital printing/proofing operation for fast completion and delivery. The process, which included the creation of eight proofs (four glossy and four matte), consumed less than two weeks in total.

When Sageant introduced the new labels, the fast production turnaround of the digital print process provided the company an important speed-to-market advantage. The digital print procedure also provides flexibility to rapidly produce cost-efficient label short-runs for sales samples and promotional campaigns.

Sageant president Kelly Gaisford notes that, in addition to the prompt service, which facilitates shortened time-to-market for the vitamins and reduces pressure on label inventory requirements, Sageant also is pleased with the quality of the label design and print work.


Companies in this article
Videos from Klöckner Pentaplast Pharma, Health & Protection and Durables