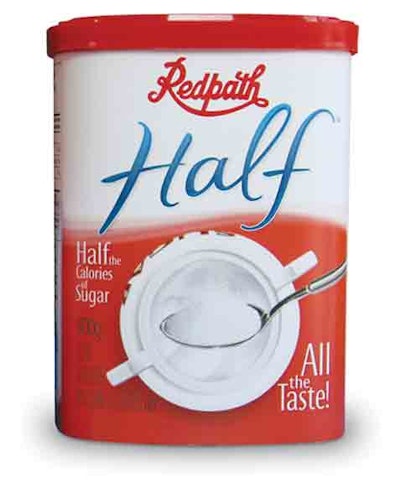 Sonoco is supplying Tate & Lyle Canada with two Linearpak can sizes—401 x 407 (210 g) and 502 x 514 (400 g). The cans are made of 100% recycled paperboard with a high-barrier foil liner that locks out moisture and oxygen and keeps the granular, quick-dissolving  sweetener free of clumps. A tabbed, peelable membrane (that serves both as a security and freshness barrier) is adhered to the can rim. A red plastic overcap completes the Redpath Half package. All these packaging components are supplied by Sonoco.
According to Nancy Gavin, manager of brand development for Tate & Lyle Canada, the selection of Sonoco's Linearpak reclosable can was based on its differentiation in the supermarket sweetener section and its ability to enhance consumer convenience.
Says Gavin, "When we were evaluating packaging options for our new Redpath Half, we wanted something that was completely different from anything that is currently used in the sugar category. We also wanted a package that would stand out on the grocery shelf and, most importantly, a package that was consumer-friendly, easy to use and to reclose. This package met all of our requirements."
Billboard graphics feature rotogravure-printed, half-red, half-white labels. And the rounded corners of the cans allow the Redpath Half graphics to flow seamlessly around the face of the container, maximizing brand identity. In order to serve the bilingual eastern Canadian market, one side of the can carries product information in English, and the other side displays the information in French.
Companies in this article