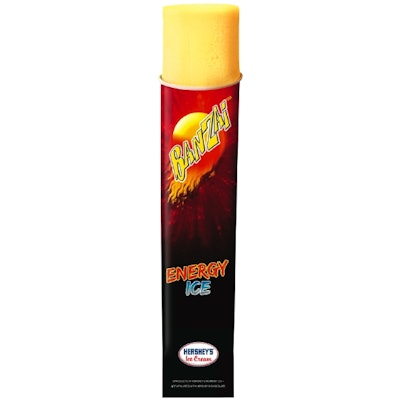 The 4 oz treat is packaged in a squeeze-up tube made of solid bleached sulfate from Solo Cup Co. (www.solocup.com). Hershey's Ice Cream, Harrisburg, PA, fills the tubes using a Flex E Fill Rotary Filler from Solo Cup Co. and heat seals them with a thin foil lid, also from Solo Cup.
The tube is rounded at the top and tapers down to a flat base, making it convenient to dispense the product from the bottom up. "It's easy to eat from," says Tom Ryan, vice president of purchasing. "It keeps your hands clean, even in warmer weather where a Popsicle, pushup, or other configuration may quickly melt."
Many of the market leaders have introduced energy drinks in 8.5-oz aluminum cans, explains Ryan. "Our squeeze-up package mimics this shape and allows us to carry through elements of the Banzai Energy Drink artwork." The tubes are printed in four colors; lids in eight colors.
On-the-go market
Hershey's target market is the 18- to 30-year-old "on-the-go" crowd in high schools colleges, casinos, bars, gyms, and nightclubs. "One of the challenges of advertising is putting up point of sale materials," says Zach Waite, executive brand manager. "We're using freezer-safe static [ads] that is packed into the bulk box before it is sealed."
The store owner of the driver can open the box, and affix the static to a cabinet door, store door, or window. Hershey has also developed independent freezers for some of its high-volume accounts to ensure that the product doesn't get lost among the competition. These freezers are fully wrapped in graphics and have a tall, 3-D backer board.
The suggested retail price for Banzai Energy Ice is $1.25.