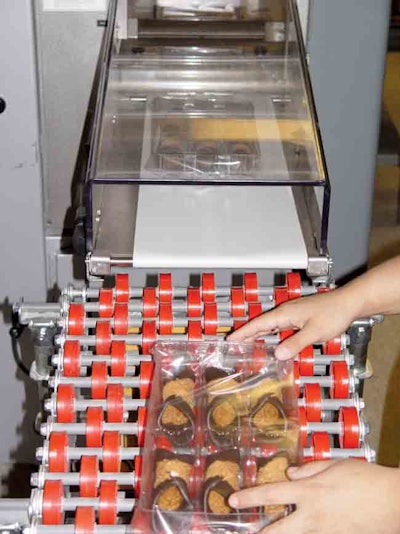 Major wholesale Italian pastry supplier Vaccaro's Desserts, Silver Spring, MD, produces cannoli shells and cannoli fillings, as well as tiramisu and a range of other Italian pastries, for distribution to restaurant operations in 17 states throughout the United States.
The company delivers its cannoli products to restaurant distributors in two parts—the cannoli shells in one package, and the cannoli fillings in another package. This delivery system enables the restaurants to prepare cannoli fresh for their clientele. When demand for the cannoli products began escalating, Vaccaro's Desserts decided that it was time to reassess its manual and semi-automatic cannoli shell and cannoli cream packaging operations.
Old school way
The previous manual packaging procedure required an operator to hand-stack unwrapped trays of cannoli shells into cardboard boxes, with only a layer of coated chipboard dividing the trays. This open-packaging approach exposed the shells to air, moisture, and other potentially product-degrading elements that could impede product quality, flavor, and freshness during long-distance shipments.
The previous packaging procedure for the cannoli cream fillings involved manual pressure-tube-feeding of the cream into a bag, and then manual application of the heat bar to seal the bag. The operator then had to wait for a light or audio indicator from the heat sealer before releasing the heat bar. Says Vaccaro's Desserts president Nick Vaccaro, "This process was a bottleneck to the rest of the line, and it required an experienced operator."
In addition, quality assurance checks were absolutely essential to ensuring that the bags were properly sealed.
New school
In 2004, after observing demonstrations of various automated wrapping equipment, Vaccaro's opted to implement the Stratus™ Horizontal Flow Wrapper from Doboy, Inc., a Bosch Packaging Technology company (www.boschpackaging.com) to handle the cannoli shells. Nick Vaccaro notes, "The Doboy machine was clearly the most sophisticated in terms of features and functionality and also the easiest to use."
Vaccaro's uses its Stratus wrapper to wrap and seal custom-made polystyrene trays of cannoli shells with extrusion laminate film without damaging the delicate pastries. The 6¼" x 105⁄8" x 1¾" trays are supplied by Detroit Forming (www.detroitforming.com). The clear, unprinted, 1.2-mil thick, cast oriented polypropylene (COPP) sheet is supplied by Plastic Suppliers (www.plasticsuppliers.com).
An infeed conveyor with stainless steel product guides that are FDA-approved for sanitation handles the trays, each containing six hand-packed shells. The servo-driven wrapper surrounds each tray with laminated film and feeds it to the heated end-crimp press for bottom fin sealing. Servomotors on the Stratus wrappers are manufactured by Parker (www.parker.com).
In 2005, pleased with the performance of the Stratus wrapper for its cannoli shells, Vaccaro's decided to install a Doboy CBS-D continuous band sealer to increase packaging rates on its cannoli cream bagging line. The new CBS-D sealer features a 15" heated bar that presses the preformed polyethylene, 28-oz, triangular-shaped bags to produce an airtight seal. The preformed bags are supplied by Four Star Plastics (www.fourstarplastics.com).
As Nick Vaccaro explains, "We still use the same semi-automatic system to fill the cream bags. The per-bag fill cycle is about two seconds. The filled bags are manually loaded into the front end of the sealer. The machine guides them through from there. It takes about a second to fill each bag and about six seconds for each bag to pass through the sealing machine.
"It isn't necessary to wait for one bag to finish sealing before filling another. The sealing machine can accept and handle the bags as fast as they can be loaded and produces consistent, high-quality seals. The machine also is capable of being made fully automatic and synchronized with an automatic filler. I expect to move in that direction in a year or so," says Vaccaro.
Digital temperature controls allow an operator to adjust the sealing bar temperatures for optimal-efficiency sealing. The multi-tasking CBS-D sealer not only eliminates opportunities for leaky seals, but also embosses the bags with a production code and Vaccaro's logo, using a built-in embossing system integral to the sealer. For shipment to distributors, the trays and bags are manually packed in corrugated boxes—eight 6-count cannoli shell trays per box and four 28-oz cream bags per box.
Graduating with honors
Together, the new wrapper and continuous-band bag sealer have helped Vaccaro's dramatically increase its overall packaging rates. The high-speed Stratus wrapper packages 75 trays of cannoli shells per minute. And the CBS-D seals bags of cream "as fast as we can load them," says Nick Vaccaro.
He adds, "Throughput has increased mildly with the wrapper—maybe 5 to 8%. But the major benefits with the new wrapper are a doubling of cannoli shell damage deterrence and doubled shelf-life protection. For the cream bags, the shelf life has been unaffected, but sealing speeds have increased by more than 30%."
Summing up, Vaccaro states, "We are very pleased with the machinery's quality, functionality, and ease of use. Doboy has allowed us to dramatically increase our throughput. The equipment also has helped us extend our product shelf life, maintaining consistent quality and taste—which is critical to our business. I believe we have made an excellent choice for our packaging equipment needs that will serve us now and grow with us for the future."
Vaccaro's Desserts is in the process of expanding its facility to include a new production area and doubling warehouse space. In conjunction with this growth, more automated systems installations are planned. Having enjoyed seven straight years of record sales and with sales continuing to grow at double-digit rates, Vaccaro's is anticipating expansion to nationwide distribution within the next few years.
Companies in this article