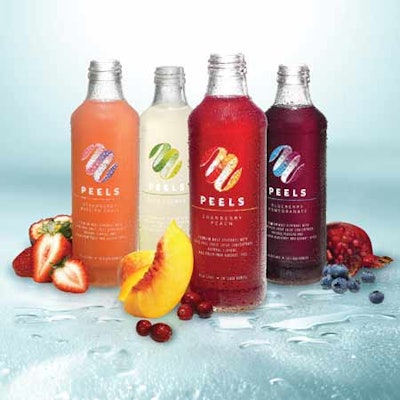 Last September (see packworld.com/go/c163), Anheuser-Busch's Long Tail Libations subsidiary introduced Jekyll & Hyde distilled spirits in glass bottles for the on-premise market. This spring, glass bottles were again used to launch a line of 10-oz juice-based, slightly sweet beverages called Peels that contain 5% alcohol by volume. Peels beverages are marketed and sold by The Peels Beverage Company, which is a part of A-B.
As is the case with the Jekyll & Hyde bottles, Peels bottles are supplied by O-I (www.o-i.com). Bottles are filled and pasteurized at the A-B brewery in Baldwinsville, NY, where "line modifications were required," according to Stacey Berg, innovation manager, A-B/Peels. Further information was not available.
"The bottle was designed in a sleek, unique shape. The smaller 10-ounce bottle appeals to women's preferences, and it showcases the liquid," says Berg. "Peels' glass package provides excellent barrier protection, functionality, and a high-quality image."
That image is enhanced with colorful 2-mil clear biaxially oriented polypropylene labels from Spear (www.spearlabel.com). A combination of UV-screen and UV-flexo printing is used to print the front label in three colors and the back label in four colors. A 28-mm roll-on resealable aluminum closure from Silgan Closures (www.silganclosures.com) completes the primary package. The closures are printed with up to five colors, depending on the flavor.
Four Peels varieties (blueberry pomegranate, strawberry passion fruit, pear lemon, and cranberry peach) are sold as four-packs, with a 16-pack (below) of all four flavors also sold. Six four-packs are shipped in a 24-count case to retail markets where stores sell them both on the shelf and in refrigerated cases. Berg says retailers can stock the four- and 16-packs as they would any similar product. Peels' shelf life is 110 days.
Market appeal
"We know that 34 percent of all alcoholic products are consumed by women," says Berg. "We wanted to offer a fun, exciting new beverage to meet their needs. They're stylish, fun, and suited to a range of personalities and styles, with pricing that's in line with other flavored alcoholic beverages (FABs) on the market.
"Peels are an escape from ordinary beverages, with no preservatives, colors that are derived from fruit and vegetable juices, and 100-percent real fruit juices," she continues. "They're sweetened with sucrose in lieu of artificial sweeteners or high-fructose corn syrup found in many FABs. This puts them in a category of their own, and we know they'll be successful."
Berg notes, "Response to the packaging has been very favorable. The bottles are attractive and fit the image of our target audience. Not only are we getting great feedback from consumers and retailers, but the industry has also recognized Peels." Specifically, the Glass Packaging Institute (www.gpi.org) recognized the bottle with its Clear Choice Award for innovative glass packaging design in the flavored alcoholic beverages/malt alternatives category.
At its Web site, GPI offers this packaging description of Peels: "The short neck and bright resealable closures create a distinguished and modern look. The flint glass showcases the colorful product inside, which coordinates with the color scheme of the pressure-sensitive label and closure."
Companies in this article