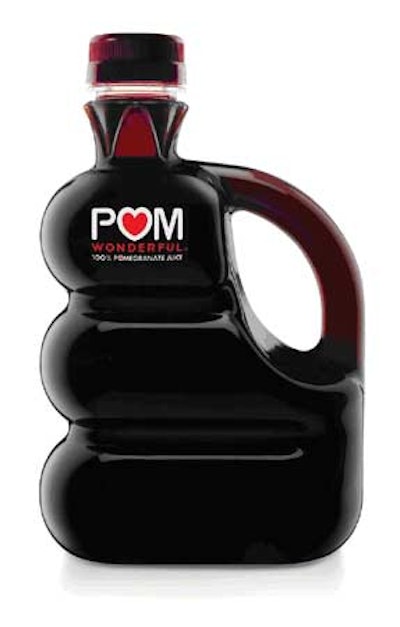 The spotlight was shining brightly on polymers at Chicago's McCormick Place in June during the 2006 National Plastics Exposition on a plastics stage that's ever growing.
According to a recently released 302-page Plastic Containers to 2010 report from Freedonia Group (www.freedoniagroup.com), the $19.3 billion U.S. plastic container market will expand 4.6% annually through 2010. Plastic bottles and jars will remain dominant, buoyed by smaller-sized beverage bottles and opportunities in food and drugs, the study states. Smaller segments like plastic cans, squeeze tubes, and trays will grow the fastest. The report also forecasts that PET will usurp HDPE as the dominant plastic container resin.
PET and other polyesters were well represented among the growing universe of resin grades on display at NPE.
Polyester handles new shapes
Handled polyester containers made of Eastar copolyester resin were showcased by Eastman Chemical (www.eastman.com). The resin's design flexibility permits clear handled and dual-chamber bottles, something that neither typical PET nor polyolefins can do, according to Eastman's Courtland Jenkins, global market development manager, food, beverage, and consumer packaging. Eastman divulged two applications that reflect packagers' interest in the resin's capabilities.
The first application was for 64-oz clear, handled bottles for Indian River-brand citrus juices from Freshco introduced in 2004 and sold in the southeast. The bottles are extrusion/blow-molded by CKS Packaging (www.cskpackaging.com). Dewayne Philips, CKS director of new business development, is excited about the hot-fill capabilities of Eastar that negates the need for vacuum panels. Republic of Tea recently converted from polyvinyl chloride bottles to Eastar bottles for its hot-filled 12-oz single-serve size of specialty teas, Philips says.
Another example is a custom 48-oz handled bottle for POM Wonderful pomegranate juice, a glass-packed product typically sold in the refrigerated section. The bottles are self-produced at POM's Fresno, CA facility using Bekum America Corp. (www.bekumamerica.com) extrusion/blow-molding equipment. The new bottles molded of Eastar copolyester are merchandised in the produce section.
This new copolyester is currently molded with SPI number seven recycling code, but Eastman is expecting to get that changed to number one coding perhaps by the end of 2006. Interestingly, it's reported that the Indian River bottles are molded with both SPI "1" for PETE and "7" other coding.
PET varieties
Shape changing technology for PET echoed in the booth of DAK Americas (www.dakamericas.com), where a promotional PET bottle in the form of a dakosaurus was shown. The bottle linked old world dinosaur to new-world tech via a Melt-Tek™ process that opens up new doors in shaped containers.
DAK offered a spectrum of Laser+® PET resins tailored to specific market applications such as bottled water, a litmus test application for molded resin stability and purity. Water bottles continue to be the fastest growing market for PET, according to DAK's business director Thomas Sherlock.
Beverage Marketing Corp. (www.beveragemarketing.com) reports that, in 2005, total U.S. bottled water volume exceeded 7.5 billion gallons, a 10.7% advance over 2004's volume level. That latest figure translates into 26.1 gallons of bottled water per person meaning that U.S. consumers now drink more bottled water annually than any beverage other than carbonated soft drinks. Laser+W minimizes the formation of acetaldehydes that can impart a harmless, but sweet off-flavor for PET-bottled water and other products. It has been used since 2005 for Gatorade's bottled Propel products.
DAK offered its new ultraviolet light protection with Laser+UV resin that protects products from both sunlight and indoor light. It permits marketers to use clear bottles that provide UV protection without the need for pigmented bottles. And it's not just for drinks—the company displayed several P&G products using UV protection including Dawn dishwashing detergent that was repackaged in early 2006 and Downy fabric softener.
It gives marketers an opportunity to package light-sensitive products into clear containers that previously had to be pigmented or carry full-wrap printed labels for UV protection.
Interest and intros in bioplastics
Several container molding companies at NPE including Welex, Husky, and SIG were touting their machines' ability to run polylactic acid (PLA), a bioplastic derived from corn that has been growing in popularity; a search of "PLA" at our www.packworld.com site yields more than 50 articles. AGI KlearFold (www.agiklearfold.com), a MeadWestvaco resource, recently unveiled its ability to provide printed cartons made of PLA. And packaging managers such as Scott Carnie of Costco Wholesale have indicated a strong interest in testing bioplastics. The May launch of bioplastics magazine further underscores the interest and momentum in bioplastics.
Communications manager Mary Rosenthal of PLA supplier NatureWorks (www.natureworksllc.com) pointed to the latest PLA application for Highland Laboratories vitamins at the show. Starting this summer, the Mt. Angel, OR, company is replacing all of its opaque and amber PET bottles used for dietary supplements with similar containers made of pigmented PLA. The pigmentation provides UV protection and is a small percent of the composition so that it does not affect the environmental aspect, according to blow molder Alpha Packaging (www.alphap.com). Bottles are provided by TricorBraun (www.tricorbraun.com).
The conversion has started with a 250-cc size. Highland chief executive officer Candy Scott says "it makes sense for us in that our products provide organic and wholesome nutrition, including dietary supplements, to complete the cycle with earth-friendly packaging." Scott expects to have about 40 products in the PLA bottles by summer's end, a solid start for the more than 200 bottled products the company packages.
NPE underscored the role plastics will continue to have in packaging.
Companies in this article