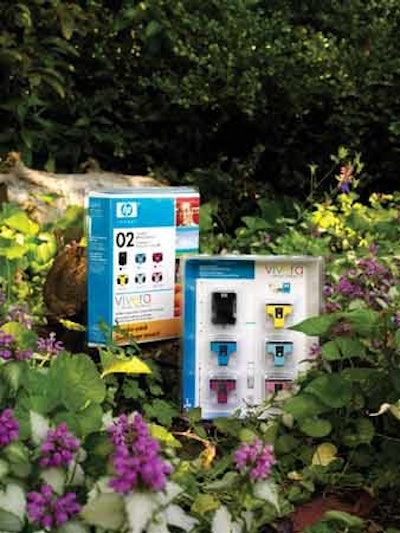 RPETG thermoforms are used in a new design for HP ink-jet cartridge products sold in club stores.
The eco-friendlier packaging initiative involved a number of complexities over a multiple year period in changing materials, developing a new package design, and in consolidating a range of packs into a small handful of formats that accept dozens of product variations.
"It's all about environmental improvement," explains Andrea Lantz, HP's supplies engineering and customization manager.
"HP has a corporate goal to improve the environmental impact of our products and packaging," Lantz adds. "I set a goal for my team to create a more environmentally friendly package for our club store customers. We worked closely with club stores to understand their needs and they were involved in the design process."
HP also worked closely with packaging supplier Display Pack (www.displaypack.com), which assisted on material selection and testing.
The ink-jet cartridges are packaged in clear front-and-back 18-mil RPETG thermoforms from Display Pack, which also provides the printed inserts that carry graphics. The printed insert also supports an eco-friendly approach: It's made of 16-pt 100% recycled paperboard printed offset in 5 colors front, 4 colors back, plus aqueous coating. Each insert conforms to the thermoform's bevel, a 45º angle molded along the two sides of the front thermoform that provides a distinctive look and unifies the entire line of products.
"I'm excited about the new packaging solution, not only for meeting the environmental and cost goals, but also for its attractive appearance," Lantz says. "Our marketing team was also instrumental in this effort, and the flat front of the package provides a great billboard for marketing graphics to help club store customers select the right product. For branding and consistency, the beveled edges of the package emulate the beveled sides of our individually packaged ink-jet cartridges."
Major effort, major change
Revamping its club stores pack culminates a several years' effort for HP, according to Lantz. "As part of Hewlett-Packard's long-standing environmental commitment, HP has been working towards a replacement for our club packaging since introducing the 'Tripacks' that were highlighted in Packaging World's previous article in 2003 [see packworld.com/go/w175]," she says.
HP is transitioning all of its ink-jet cartridge products sold in the club stores, especially for Costco, Sam's and BJ's, into this new packaging, Lantz says. That totals 25 different items.
The new packaging eliminates the use of PVC thermoforms and reduces the overall amount of packaging material. "We wanted to replace the PVC with a more environmentally responsible material," Lantz says. "We tested many materials and structural designs and found that the RPETG in this format cost effectively addressed our needs for high-quality product protection and presentation while meeting the club stores' requirements for a package that provides theft deterrence and fits in their store environment."
Lantz points out that RPETG can be coded #1 for PETE just like PET soda bottles (see sidebar page 38). PET, RPET, and RPETG are all more easily recycled than PVC, she adds.
Another environmental strength of the packaging is in source reduction and consolidation, an aspect that's highlighted through text printed on the insert's reverse that states "Same great product. Less packaging than before" next to a entire column entitled "Feel good about recycling."
Remarkably, HP's packaging accommodates a diverse range of ink cartridges and associated items in just four thermoforms that accept all 25 products: one front used for all products, and three different back thermoforms.
"Although the shapes of the ink-jet cartridges are radically different, HP can use one thermoform for many different products through careful cavity design," Lantz says. "The new format eliminates a layer of packaging since the ink-jet cartridges are placed directly into the package. The previous packaging used ink-jet cartridges in their individual retail cartons."
A secondary benefit for consumers is that for many of the products, the actual ink cartridge itself can be seen through the clear back of the package, Lantz adds.
Clearly protected
The cavities also provide product protection. "Every single product fits nicely into cavities and will be individually protected," says HaJung Kim-Gifford, HP packaging engineer and program manager, whose technical expertise included coordinating the structural design.
Lantz also points out that the overall size of the package, though slightly smaller than the previous package, is still big enough to meet the club stores' requirements for anti-theft protection: The package size makes it difficult for a potential thief to conceal the unopened product. The clubs also mandated that the consumer must need a tool such as a scissors to open the package.
Kim-Gifford lead the structural design effort in which HP was able to retain the 18-mil thickness, as before, for the thermoforms. Hajung tested the format for compression, shock, and drop tests and found it to be "as good as the PVC packs," she says.
She also had an unexpected and pleasant surprise. "The level of clarity surprised me," says Kim-Gifford. "There's just a little blue tint, but it's pleasing and works well with our graphics design. We have been very happy with the change in material." The blue tinting pigment masks the yellow associated with reprocessing of recycled PET or PETG.
Kim-Gifford also says that the RPETG seals using radio-frequency better than RPET. "The glycol releases stress on the RPET and makes it easier to seal," she says.
"It results in a seal that's not as brittle and liable to crack as would otherwise occur," adds Lantz.
HP's team also included Jean Gingras, the company's North American environmental marketing manager. "HP is always looking for new ways to improve materials as well as the recyclability of our products," says Gingras. "This is definitely an example of HP's ongoing commitment to environmental responsibility. We're constantly looking for alternative materials for ink-jet-cartridge packaging to be more environmentally friendly, so you can expect to see that trend continue."
One thing is certain: HP will continue to invent new packaging that makes sense for the company, for consumers, and for the environment.
Companies in this article