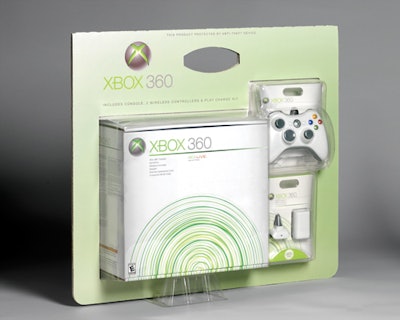 A special bundled version of the Microsoft Xbox 360 entertainment system introduced in Sam's Club stores in November 2005 has "game," environmentally speaking. It represents the first introduction of EnviroShell® environmentally friendly packaging from Winterborne, a partner company of Smurfit-Stone.
EnviroShell is a hybrid blister/corrugated package made from 65% recycled materials, including 50% post-consumer content. The packaging uses a combination of corrugated to carry graphics and clear RPET (recycled polyester) to display the product. EnviroShell has also been used for media storage devices from Toshiba (see Toshiba debuts environmental hybrid pack for Sam's Club).
The packaging is part of an environmental strategy of Microsoft Corp., Redmond, WA, that included deleting polyvinyl chloride from its packaging by 2006. The Xbox 360 helps the company put a new spin on environmentally friendly packaging through a reworked version of its retail package.
"We saw this packaging as a better packaging solution than PVC," says Scott Ballantine, packaging project manager.
The solution is as notable for its materials as for its size. The product components of the game console, cable, literature, and two controllers are packed inside a 3'x2'x1' blister pack made of RPET. The front and back blisters are thermoformed from 24-mil RPET with feet that permit it to stand upright on display.
Graphics are carried on a sturdy insert sheet of 275# B-flute corrugated that's folded, with four-color lithography on the outer liner. After the product components are packed inside, the RPET thermoforms are sandwiched between the corrugated, which is folded over around it. The two corrugated layers are hot melt glued together using an eco-friendly, water-based adhesive. Soon, the corrugated's edges will be crushed and heat sealed using a special process custom-designed for EnviroShell by Winterborne. The concept is to substitute corrugated for SBS paperboard, yet mimic the clean look and graphics quality of paperboard.
Jay Watts, senior management packaging engineer, says the materials are easier to recycle. Another bonus, he adds, "is that the cost is at or below the previous packaging due to using less plastic material." The previous Xbox packaging sold at Sam's Club was a three-piece PVC construction. Microsoft was able to shed about two-thirds (by weight) of the packaging used in its previous Sam's Club bundle packaging to about ½ lb materials for the EnviroShell version.
Ajay Sharma, lead program manager, Microsoft supply logistics group, says the large size of the package along with its design and 22-lb net weight serve as a theft deterrent. In fact, the tamper-evident packaging is peeled apart to access the contents, yet is easier to open than conventionally sealed blister packages. Once opened, the corrugated and plastic easily separate.
Asked about RPET's on-shelf impact, Sharma responds that "although RPET has a reputation for being a little bit cloudier than PVC, there were no issues of clarity. It's just as clear as PVC."
Packaging factors
The packaging reflects six months' worth of development and approval and a complex set of requirements.
According to Microsoft's Gary Lietzke, packaging project manager, "From an engineering standpoint, the Xbox 360 retail packaging was designed for optimum packaging material efficiency as well as supply chain efficiency including retail shelf space allowances. There's also an emphasis on the customer's 'out of box experience' by presenting the product in a logical and appealing way for easy set up and access to product components and information. The Sam's Club Xbox 360 packaging is designed for club store sales display visibility in order to promote the added value of bundling additional components, while providing pilfer protection, allowing customers to 'see and compare' the value proposition."
The packaging also dovetails with Sam's Club's take on the environment.
Joan Krajewski, Microsoft's legal counsel on environmental affairs, says that Microsoft has a plan of environmental corporate citizenship that includes global sustainability that extends from the company's "use of hybrid vehicles to the type of copy paper we use and to our packaging. Microsoft is eliminating PVC. At the same time, EnviroShell packaging is easier for consumers to recycle and already has post-consumer recycled content. This kind of packaging is a win-win situation: It saves on the amount of packaging, and the environmental impact of our packaging."
Surprisingly, Microsoft chose not to promote the environmental strengths of this new format. Although the RPET carries the PET #1 recycling mold mark, there is no other indication on the packaging of the environmental aspect. According to Krajewski, Microsoft prefers to sell products on their own merits rather than promoting the environmental aspect.
Winterborne supplies the packaging components to Microsoft's undisclosed contract packager, which assembles the packaging. The Xbox 360 EnviroShell package sells at Sam's Club for $449.49.
Microsoft indicates that Sam's Club is having a difficult time keeping the product on shelf. "Supplies remain constrained due to huge demand for this generation of gaming system," reports Lietzke. "Increases in manufacturing output of consoles are in process to keep up with customer demand."
Companies in this article